Joe Pass Guitar Tab Books, Instruction DVDs, Chord Melody Solos, Arrangements, Video Lessons
*FREE BOOK - "Jazz Guitar Chords & Arpeggio Patterns" by Stacy McKee (with 1st order)*
..................................................Chord Melody Guitar Music.......................................................
1-800-913-9477 -Toll Free 843-838-2657 - Phone 843-838-7381 - Fax chordmelod@aol.com
Acoustic Guitar Books/DVDs..........Classical Guitar Books/DVDs.............Lick Library Guitar DVDs
Beginner's Guitar Books/DVDs.......Country Guitar Books/DVDs..............Play Along Guitar Books/DVDs
Blues Guitar Books/DVDs................Flamenco Guitar Books/DVDs............Religious Guitar Books/DVDs
Brazilian Guitar Books/DVDs..........Jazz Guitar Course Books/DVDs........Robert Conti Guitar Books/DVDs
Celtic Guitar Books/DVDs................Jazz Guitar Books/DVDs (A-K)..........Rock Guitar Books/DVDs
Christian Guitar Books/DVDs..........Jazz Guitar Books/DVDs (L-Z)...........Spanish Guitar Books/DVDs
Secure Order Form
*Click Here For Featured DVDs Of The Week On Sale!!
==> Click Here To Search By Artist Name or Band Name <==
Need Help Choosing The Right Guitar Book or Video? Peabody Conservatory
trained guitarist Steven Herron is available to answer questions and make recommendations
that will help you become a better guitarist! Just call Toll-Free 1-800-913-9477 now!!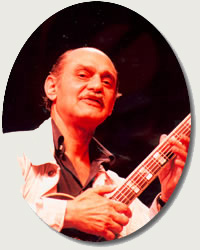 Joe Pass
Joe Pass is one of the greatest guitarists in the history of jazz! A genuine master of all the idioms of mainstream jazz guitar improvisation, he was equally at home with a burning bebop line, a down home blues groove, a sensitive "rubato" ballad, or a gentle chord melody solo.

Pass was also highly sought after as a sideman in many diverse ensembles - including a surprisingly successful set with Roy Clark covering Hank Williams tunes. He also served as an accompanist to singers like Ella Fitzgerald and instrumentalists like pianist Oscar Peterson and J.J. Johnson.

Since the early 1960s, the name Joe Pass has been synonymous with jazz guitar and Joe's effect on his contemporaries and subsequent generations of players is undeniable. He was a favorite performer of Wes Montgomery during the height of Wes's popularity and along with Howard Roberts, Barney Kessel, and Herb Ellis he defined the West Coast jazz guitar school. Pass was also an important and influential paternal figure to emerging players like Larry Carlton, Jack Wilkins, Emily Remler, and Mark Whitfield.

A great deal of attention is devoted to his Pacific Jazz Record Company years - often acknowledged as his "classic" years - when he was hot, hungry and ready to show the world what he could do! For many years these recordings - seminal masterworks and essential listening for previous generations of guitarists - were unavailable on CD.

Consequently they languished in obscurity and their relevance and inclusion in a Joe Pass jazz guitar music compilation was problematic - despite the excellence, profundity and importance of the music. Today these classic Joe Pass albums have been rightfully given a new lease on life through the laudable re-issue efforts of companies like Blue Note, Eupohoria, and most of all Mosaic Records.

Joe Pass wrote several instructional jazz guitar music books with the goal of sharing his expertise with neophytes and seasoned guitarists alike, but often mentioned that learning as many tunes as possible was the most valuable lesson for a player. He hoped that aspiring guitarists, regardless of style, would find that spark of individuality and creativity that he discovered in his youth and cultivated in his earliest playing experiences.

Joe's improvisation approach, advanced harmonic concepts, and solo jazz guitar chord melody style are subjects he was eager to discuss and share - yet his mode of expression was hardly disciplined, pedantic, or scholarly. Nonetheless Joe was a great communicator - if you listened. He spoke as in performance through his instrument - spontaneously, casually, with humor and great feeling - punctuating his musical discourse with a favorite comment: "Stop me when you hear something you like". Needless to say, he got stopped a lot!

Joe Pass - The Blue Side Of Jazz - DVD
In this superb instructional DVD, the exciting follow-up to "Solo Jazz Guitar", jazz guitar virtuoso Joe Pass explores the blues elements of jazz guitar! Joe analyzes and teaches jazz bebop blues, new chord patterns, blues-jazz chord substitutions, special intros and endings, "pedal" tones, accompaniment chords, voice leadings, creating single-note lines from chord positions, and jazz-blues improvisation combining chords and runs together! Split screen close-ups with music and tab on screen.
(60 min) Tab Booklet Included...............................................Price - $24.95

Joe Pass - Solo Jazz Guitar - DVD
In this exciting instructional DVD, Joe teaches information useful for both blues players and jazz "purists" with his usual wit and wisdom! Topics covered include: chord melody, chord substitutions, leading tones, chromatic chords, voice movements, common tones, adding color tones to your chords, learning to work within close voicings, turnarounds, adding substitution to your melodic playing, special licks, lines vs. scales, and learning how to create walking bass lines over chord changes. Split screen close-ups with notation and tab on screen.
(60 min) Tab Booklet Included...............................................Price - $24.95

Joe Pass Plays "Stella By Starlight"

Joe Pass - The Genius Of Joe Pass - DVD
A compilation of a series of 1962-1982 live performances that capture the essence, brilliant technique and enormous talent of Joe Pass. Also features a brief interview with Joe. Tunes include: "The Song Is You, Soft Winds, Prelude To A Kiss, Original Blues in G, Satin Doll, Tricotism, Sonnymoon For Two, Blues In G, Move, What Are You Doing The Rest Of Your Life, Misty".
(75 min) Biographical booklet included................................Price - $24.95
Also Available For Instant Download - Click Here Now!

Joe Pass Plays "Satin Doll"

Joe Pass - The Best Of Joe Pass - Book and Online Audio
A step-by-step breakdown of the styles and techniques of jazz guitar virtuoso Joe Pass taught by Wolf Marshall. Learn the trademark riffs and solos of one of the greatest guitarists in the history of jazz! Each piece - some are single note improvised solos while others are chord melody solos - also includes harmonic analysis and performance notes! Songs include: "Blues For Basie, Cavalerie, C.E.D, Django, A Ghost Of A Chance, For Django, Milestones, Nobody Else But You, The Night Has A Thousand Eyes, One For My Baby, Rosetta, There Is No Greater Love".
Notation and tab...................................................................Price - $24.95
Click To Hear Audio Samples

Joe Pass Plays "Django"

Joe Pass - Play Like Joe Pass - Book and Online Audio
The Ultimate Guitar Lesson. Study the trademark songs, licks, solos, and techniques of jazz guitar master Joe Pass! This comprehensive book and online audio teaching method by Paul Silbergleit provides detailed analysis of Joe's gear, tone, techniques, styles, songs, licks, improvisations, and much, much more! You'll learn everything you need to know about Pass's legendary guitar playing - from his early 1960s recordings as a sideman to his ground-breaking solo jazz guitar albums and on to his many collaborations with artists like Oscar Peterson and Dizzy Gillespie. Includes 5 full length songs: "Blues for Basie * Meditation * Summertime * Tricrotism * Yours Is My Heart Alone". Also includes numerous excerpts of even more signature Joe Pass tunes!
Notation and tab...................................................................Price - $29.95

Joe Pass Plays "Meditation"

Joe Pass - The Complete Joe Pass - Book
This book is a collage of many of Joe's thoughts about the guitar as an accompanying and solo instrument and includes lessons on: harmony, chord basics, chord substitutions, chord forms, neighboring chords, moving bass lines, melody, scales, "lead-in" notes, diminished lines, chordal thinking, improvising, and blues rhythm changes. It also contains Joe Pass jazz and blues phrases and transcribed solos including: "Bay City Blues, Foxy Chick And a Cool Cat, Time In, Blues in G, Dante's Inferno, Grete". Joe Pass and Herb Ellis jazz duets: "Bonnie, Jazz Waltz, Some Of These Days, G Blues, Hot Stuff, Ballad".
Standard notation..................................................................Price - $29.95

Joe Pass Plays "Blues For Basie"

Joe Pass - Essential Jazz Lines - Book and Online Audio
Taught by Corey Christianson, contains a study of lines used by Joe Pass, broken down and grouped according to how Joe used them harmonically. The play-along CD exemplifies how these relate to a harmonic background. Each harmonic section contains a play-along recording in the original key and a play-along, moving in fourths, to help the student practice the lines in all twelve keys. Eventually, the student will learn to mix and match these ideas and create lines of their own. The more phrases and ideas a student has, the more they are able to improvise or juxtapose their ideas to create new melodies on their own.
Notation and tab...................................................................Price - $19.95
Click To Hear Audio Samples

Joe Pass Plays "Yardbird Suite"

Joe Pass - The Joe Pass Collection - Book
Songs include: "Blues For Basie, Blues For Hank, Cheek to Cheek, Dissonance #1, Happy Holiday Blues, I Got Rhythm, In A Sentimental Mood, Pasta Blues, Satin Doll, The Song Is You, The Way You Look Tonight, Yardbird Suite".
Notation and tab...................................................................Price - $19.95

Joe Pass Plays "In A Sentimental Mood"

Joe Pass - The Joe Pass Guitar Style - Book and CD
This book/CD is divided into 2 sections: Part 1 - Harmony, includes: chord construction, embellishment, substitution, connection and symmetric chords. Part 2 - Melody, includes: chord scales, altered scales, ear training, whole tone scales, chord resolutions, improvising, blues (minor, modern, 3/4), rhythm changes, and a solo to play. Learn the sound of modern harmony and melody while playing!
Standard notation..................................................................Price - $20.95
Click To Hear Audio Samples Click To See Sample Pages

Joe Pass Plays "I Can't Get Started"

Joe Pass - On Guitar - Book and CD
Joe explains his approach to the process of jazz improvisation. Also an overview of "The Three Harmonic Families"- lines, scales, and chord superimpositions and substitutions that Joe uses. Includes 50 musical examples and 3 note for note transcriptions of: "Stella By Starlight, Joe's Blues, and All The Things You Are".
Notation and tab...................................................................Price - $24.95
Click To Hear Audio Samples Click To See Sample Pages

Joe Pass Plays "Joe's Blues"

Joe Pass - Virtuoso Standards Songbook Collection - Book
Solo guitar arrangements include: "Have You Met Miss Jones, I Can't Get Started, In Your Own Sweet Way, The Man I Love, On Green Dolphin Street, Round Midnight, Sweet Lorraine".
Notation and tab...................................................................Price - $21.95
Click To See Sample Pages

Joe Pass Plays "On Green Dolphin Street"

Joe Pass - Jazz Play Along - Book and CD
For use with all B-flat, E-flat, Bass Clef, and C instruments, the Jazz Play-Along series is the ultimate learning tool for all jazz musicians. With musician-friendly lead sheets, melody cues, and other split-track choices on the included CD, this first-of-its-kind package helps you master improvisation while playing some of the greatest tunes of all time. FOR STUDY, each tune includes a split track with: * Melody cue with proper style and inflection * Professional rhythm tracks * Choruses for soloing * Removable bass part * Removable piano part. FOR PERFORMANCE, each tune also has: * An additional full stereo accompaniment track (no melody) * Additional choruses for soloing. INCLUDES: "Catch Me * C.E.D. * Chlo-e * Fleur d'Ennui * For Django * A Foxy Chick and a Cool Cat * Hang Tough * Just Friends * Lullaby of The Leaves * Soon".
Standard Notation................................................................Price - $16.95
Click To Hear Audio Samples

Joe Pass Plays "Just Friends"

Joe Pass - Omnibook - Book
Note-for-note full length solos of over 30 Joe Pass classics from numerous recordings spanning his entire career! Songs include: "All The Things You Are, But Not For Me, Catch Me, Cavalerie, C.E.D., Chlo-e, Django, 500 Miles High, For Django, Giant Steps, Have You Met Miss Jones, I Love You, In A Mellow Tone, Just Friends, Limehouse Blues, Love For Sale, Our Love Is Here To Stay, Meditation, Night And Day, The Night Has A Thousand Eyes, Oleo, Robbin's Nest, Rosetta, Satin Doll, Soon, Speak Low, Stella By Starlight, Stompin' At The Savoy, Tricrotism, Watch What Happens, Windows, Yardbird Suite, You Stepped Out Of A Dream." Approximately 300 pages long!
Notation and tab...................................................................Price - $34.95

Joe Pass Plays "But Not For Me"

Jazz Guitar Lines Of The Greats - Book
Includes 675 transcribed licks and phrases from five of the greatest jazz guitarists of all time: Tal Farlow, Pat Martino, Wes Montgomery, Joe Pass, and Jimmy Raney! The phrases are separated into five sections; major lines, minor lines, major ii/V7/I lines, minor ii/V7/I lines, and dominant 7 lines. These "textbook" jazz phrases are perfect for all instruments---not just guitar. Spiral bound for easy opening and page-turning. Over 100 pages of incredible jazz guitar licks!
Standard notation.................................................................Price - $19.95

Joe Pass Plays "Rosetta"

Jazz Guitar Masters Play Gershwin - Book
Ten incredible note-for-note transcriptions of solo jazz guitar arrangements from the original recordings as played by the pre-eminent jazz guitarists of our time including Kenny Burrell, Joe Pass, Johnny Smith and others! Never before available arrangements include: "But Not for Me (Kenny Burrell) * Embraceable You (Earl Klugh) * A Foggy Day (George Van Eps) * I Got Rhythm (Martin Taylor) * I Love You Porgy (Johnny Smith) * Isn't It a Pity (Howard Alden) * My Man's Gone Now (Ralph Towner) * Someone to Watch Over Me (Jimmy Raney) * Summertime (Joe Pass) * They Can't Take That Away from Me (Ted Greene)".
Notation and tab...................................................................Price - $16.95

Joe Pass Plays "Summertime"

Wolf Marshall - The Best Of Jazz Guitar - Book and Online Audio
Guitarist Wolf Marshall presents a step-by-step breakdown of the guitar styles and techniques of some of the greatest jazz guitarists of all time! Several versions are presented of each song allowing you to see how different guitarists would arrange the same piece of music! Each piece - some are single note improvised solos while others are chord melody solos - also includes harmonic analysis and performance notes! Songs include: "St. Thomas" - Jim Hall, Tal Farlow, Kenny Burrell, "All Blues" -George Benson, Kenny Burrell, Pat Martino, "So What" -Barney Kessel, George Benson, "All The Things You Are" -Hank Garland, Pat Metheny, "Honeysuckle Rose" -Joe Pass and Herb Ellis, Charlie Christian, "Satin Doll" -Howard Roberts, Joe Pass, "Yesterdays" -Johnny Smith, Tal Farlow, Wes Montgomery, "Misty" -Barney Kessel, Wes Montgomery, Howard Roberts, "I'll Remember April" -Johnny Smith, Grant Green, "How Insensitive" -Pat Martino, Emily Remler. Each selection also includes authentic matching audio with backing tracks!
Notation and tab...................................................................Price - $29.95
Click To Hear Audio Samples

Joe Pass & Herb Ellis Play "Honeysuckle Rose"

Chord Melody's New DVD Digital Download Service
Now you can download over 4,000 DVDs instantly!

Guitarists who like Joe Pass also like:
The Hank Mackie Solo Guitar Collection

The Huey Long Solo Guitar Collection

The Johnny Smith Solo Guitar Collection

Joe Pass - A True Jazz Guitar Genius!
Compiled & Edited By Steven Herron

If Joe Pass had not been sidelined with illegal drug dependency, he definitely would have taken part in the exciting jazz guitar surge of the fifties. As it was, fate had other ideas for Joe Pass. After knocking about in and out of jail for over ten years with heroin addiction, Joe got admitted to Synanon which was basically a drug rehab facility in 1960.

Joe Pass first acquired public recognition with his guitar playing as part of the house band on 1961's "Sounds Of Synanon". His debut record album "Catch Me", and its' historic follow up "For Django", developed Joe Pass's credentials in no uncertain terms. By 1965, he was in demand as one of the most requested jazz sidemen of the time, backing up musicians such as George Shearing, Groove Holmes, Gerald Wilson, Benny Goodman, and Les McCann.

At decade's end, Joe Pass had actually released a bunch of records on the Pacific Jazz label (these are finally offered on CD in a must have Mosaic Records' collection) and was a regional legend in the Los Angeles jazz guitar scene. Lee Ritenour once referred to him as "The President Of Bebop" on the West Coast, a thought shared by many up and coming jazz guitar players of the day.

In 1972, Joe Pass broke new ground with his "Virtuoso" record album. The promise made by his Pacific Jazz recordings was fulfilled on "Virtuoso". This record featured Joe Pass playing unaccompanied, improvised jazz guitar for an entire program of twelve tracks! A collection that seems as fresh and outstanding today, "Virtuoso" elevated the bar in the jazz music industry overnight.

From this point on, the word "virtuoso" came to be Joe's handle. He was the undisputed king in the solo jazz guitar category and held this position until his untimely demise in 1994. In retrospect, Joe Pass is among the most vital jazz artists of the twentieth century and continues to be the essential "complete" jazz guitar player.

Stories from the Joe Pass mythos have it that Gene Autry, "The Singing Cowboy", motivated a 9 year old Joseph Anthony Passalaqua to take up the guitar and become one of the world's best artists - an idealized and enchanting image but barely precise. Joe Pass debunked that story years back.

Reality be revealed, Joe himself didn't remember specifically what propelled him to begin playing guitar - he just did. When he did, he participated in the neighborhood popular music scenario in Johnstown, New Jersey - merely hanging out with various other guitarists, learning Italian sing-along songs of the day, and listening. Huge amounts of listening!

For almost a year and a half, Joe Pass took official guitar lessons with a regional multi-instrumental musician. He discovered how to read formal music, worked through some Nick Lucas guitar method publications, and examined some basic finger style guitar techniques from the Carcassi Classical Guitar Method.

At this age, he practiced around six hours a day under the careful eye and rigorous analysis of his dad. By age twelve, Joe Pass was an excellent improviser and was playing professionally at local dances with older artists. In this time period, he came to be aware of jazz players like saxophonist Ben Webster and trumpeter Roy Eldridge.

In the forties, jazz guitarist Joe Pass was drawn to the modern jazz guitar sounds originating from New York City. There he came to be conversant in the new musical language of bebop and jammed with numerous of its leading entertainers. Joe mentioned Dizzy Gillespie, Charlie Parker, Art Tatum, and Coleman Hawkins as influential in this phase of his development. In later years, he was also influenced by the piano playing of Oscar Peterson. Joe Pass has cited only 3 guitarists as having an influence on his guitar style: Charlie Christian, Django Reinhardt, and Wes Montgomery.

Joe Pass has actually been likened, and justly so, to the wonderful wind (sax and trumpet) and keyboard performers of jazz. In a pure music sense, his single note improvisation style has a lot in common with instrumentalists of the classic bebop and hard bop schools. Hardly one for labels, Joe Pass has constantly referred to himself as an improvisation musician that just so happens to play and express himself via the guitar.

Nonetheless, his agile single note lines have many of the melodies and phrases one associates with jazz giants like Charlie Parker, John Coltrane, Dizzy Gillespie, Clifford Brown, and Sonny Rollins. It is mostly from this framework that he played. His implementation and methodology were hornlike and on par with his wide range of ideas and enormous vocabulary, permitting single note improvisations to flow like a saxophonist's stream of consciousness.

Joe Pass likewise had a tougher, funkier element to his playing that merged bluesy string bends, double stops and partial chords, mutated swing licks, and rhythmically charged R & B influenced riffs. This side of his musical personality emerged early on in solos with hard bop players like Groove Holmes and Les McCann along with on blues and rock flavored numbers like "Ode to Billie Joe" on the 1970's "Intercontinental" album.

Over the years, Joe Pass established an extremely unique harmonic methodology that equals most pianists' playing. He was especially skilled at thinking up unaccompanied chord melody solos. These mini-masterpieces are brilliantly showcased on the "Virtuoso" record albums and a lot of other solo albums. In this setting, Joe was really in a league of his own.

Utilizing a wide array of finger-picked, hybrid-picked, and flat-picked articulations along with a trademarked mix of ad lib chord passages, spontaneous counterpoint, and fleet bebop lines, he has actually reinterpreted - that is, basically re-written at will - numerous of the greatest standard tunes of history.

Many guitarists have been surprised to learn that Joe Pass played Fender solid body guitars on his early jazz guitar recordings. Normally associated with surf and rock and roll performers, the Fender Jazz Master and Fender Jaguar models seem unlikely foils for his advanced bebop style, but Pass made the most of his circumstances.

His Fender guitar sound is heard on recordings like 1961's "Sounds of Synanon", 1962's "Something Special (Groove Holmes) and "Moment of Truth" (Gerald Wilson), and 1963's "Catch Me", his first album as a leader. He also employed a Fender Bass VI six string bass guitar for a couple of tracks on the latter date. Pass used a thin line Gibson ES-355 briefly during 1963. This was heard on his sessions as a sideman with Les McCann.

Pass played these atypical jazz guitars until a kind and generous soul, Mike Peak, gave him a Gibson ES-175D in 1963. This guitar is an archtop electric acoustic with two humbucking pickups, a sunburst finish and a 16 inch laminated body. The 175 produced the definitive Joe Pass sound and became his workhorse instrument for most of his career. It is heard prominently on such classic recordings as 1964's "For Django" and "Joy Spring", 1967's "Simplicity" and 1963's "Jazz Concord" (with Herb Ellis).

In the 1970s and 1980s, Joe Pass dabbled with a few other jazz archtop guitars, including a custom made James D-Aquisto archtop acoustic with a thinner body and a floating pick up, and an Ibanez JP-20 signature model. He later lent his name to a line of Epiphone Joe Pass Signature guitars in the 1990s. In 1992 Joe took delivery of a custom made Gibson ES-175.

According to jazz guitarist John Pisano, Pass's longtime friend and frequent musical collaborator, this instrument has a thinner body, a single humbucking pickup, a sunburst finish, gold-plated hardware, and an ebony fingerboard. Pisano also mentioned that this is the guitar heard on Joe's final recordings, including his last: "A Meeting of the Masters: Roy Clark & Joe Pass Play Hank Williams".

Like most jazz guitarists, Pass used the neck pickup on his ES-175 almost exclusively and adjusted the tone control to produce a warm bassy sound. Joe was supplied with a full custom medium to heavy gauged set of strings from GHS. Joe had an unusual habit of breaking or biting his picks in half to a smaller size that he felt was more comfortable. These were originally smaller teardrop shaped picks and after breaking them he played with the pointed end.

In the 1960s, Joe usually performed and recorded with various Fender tube amplifiers. He used several combo and piggyback models including a Twin Reverb and a white Tolex Bandmaster. The latter was seen and heard mated to a Fender Jaguar in a telling 1962 TV performance included on the "Genius of Joe Pass" DVD. Session photos reveal that an Ampeg combo amp was used during the landmark "For Django" recording.

By the early 1970s, Pass switched to Polytone solid-state amps and became one of the company's leading endorsers. Fortunately for aspiring guitarists, Joe Pass released numerous jazz guitar tab books and instructional DVD courses that teach his single note improvised solos and chord melody solos as well as the pickstyle and fingerstyle guitar techniques he used to play them.

Jazz Guitar Chords & Arpeggio Patterns - Stacy McKee - This unique book includes 300 jazz guitar chord formations and matching single note arpeggio patterns in a quick reference format that no one has ever done before! Cross indexing makes this manual extremely easy to use and regardless of what style of music you play, we know you will find this to be a valuable, "must have" addition to your library. Stacy McKee was the featured guitarist with "Les Brown and The Band Of Renown" and for a limited time only, we will include an exclusive copy of his book FREE with your first order!
==> Click here to see the Stacy McKee Chord Melody Solo Collection <==

Wikipedia article on Joe Pass
Wikipedia article on jazz guitar

Please get in touch with us personally if you have any questions.
U.S. residents call Toll-Free 1-800-913-9477
Outside the U.S. call 1-843-838-2657

You can easily place your order Toll Free by calling 1-800-913-9477 now!
OR click on this link to use our Secure Order Form All orders are backed by
our "exclusive" 30-Day No-Risk Guarantee!

See Our Guarantee!

Chord Melody Productions PO Box 569 Beaufort, SC 29901


1-800-913-9477 -Toll Free 843-838-2657 - Phone 843-838-7381 - Fax chordmelod@aol.com

.............................................Home Page.......................................Secure Order Form.........................................