Johnny Smith Guitar Tab Books, Chord Melody Solos, Arrangements, Transcriptions, Lessons
*FREE BOOK - "Jazz Guitar Chords & Arpeggio Patterns" by Stacy McKee (with 1st order)*
..................................................Chord Melody Guitar Music.......................................................
1-800-913-9477 -Toll Free 843-838-2657 - Phone 843-838-7381 - Fax chordmelod@aol.com
Acoustic Guitar Books/DVDs..........Classical Guitar Books/DVDs.............Lick Library Guitar DVDs
Beginner's Guitar Books/DVDs.......Country Guitar Books/DVDs..............Play Along Guitar Books/DVDs
Blues Guitar Books/DVDs................Flamenco Guitar Books/DVDs............Religious Guitar Books/DVDs
Brazilian Guitar Books/DVDs..........Jazz Guitar Course Books/DVDs........Robert Conti Guitar Books/DVDs
Celtic Guitar Books/DVDs................Jazz Guitar Books/DVDs (A-K)..........Rock Guitar Books/DVDs
Christian Guitar Books/DVDs..........Jazz Guitar Books/DVDs (L-Z)...........Spanish Guitar Books/DVDs
Secure Order Form
*Click Here For Featured DVDs Of The Week On Sale!!
==> Click Here To Search By Artist Name or Band Name <==
Need Help Choosing The Right Guitar Book or Video? Peabody Conservatory
trained guitarist Steven Herron is available to answer questions and make recommendations
that will help you become a better guitarist! Just call Toll-Free 1-800-913-9477 now!!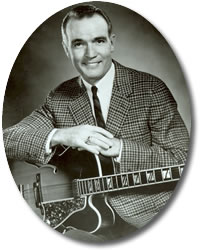 Johnny Smith
Johnny Smith, among the most important jazz guitarists of the 1950s and 1960s, is also an accomplished performer on viola, trumpet and violin. He was born in Birmingham, Alabama on June 25, 1922. A self taught player he mentions Andres Segovia and Django Reinhardt as his major guitar influences. Johnny Smith, whose dad was a banjo player and a guitarist, initially developed an interest in the jazz guitar at the age of five.

In 1935 Johnny Smith's family transferred to Portland, Maine. By that time Johnny was currently an outstanding jazz guitarist. He obtained his very first professional training in 1939 playing in a hillbilly group called "The Fenton Brothers". He led his very own jazz trio in Boston 1940-41 prior to joining the United States Air Force. Throughout World War 2 he played cornet in the Air Force Band.

After leaving the Air Force in 1946 he returned to Portland and played trumpet and jazz guitar for a regional radio station, along with playing in clubs at night. Professional opportunities were not good in Portland, so later that year Johnny Smith transferred to New York city where he became an NBC staff musician. For the following eight years he played both trumpet and jazz guitar and wrote and arranged for the network.

Johnny Smith first acquired international importance as a jazz musician in the 1950s when he put together a quintet along with tenor saxophonist Stan Getz. Their arrangement and record of "Moonlight In Vermont" came to be a jazz legend epitomizing the term "cool jazz". Among the finest selling jazz records of 1952, this recording continues as a milestone in jazz guitar history books. It is differentiated by Johnny Smith's virtuoso single note improvising as well as the one-of-a-kind harmonies of his close voicing jazz chords on the guitar.

From 1953-57 Johnny Smith successfully led his own band in East Coast jazz clubs and made more than twenty record albums for the Royal Roost recording label. Always curious about jazz guitar design and construction, Smith, after teaming up with Guild Guitars for a short while in the 1950s, has had a lengthy collaboration with the Gibson Guitar Company. Their "Johnny Smith Model" guitar has been among their most renowned jazz guitar archtop models since its introduction in 1960.

In 1957 after the unexpected death of his wife, Johnny Smith chose to settle in Colorado Springs, Colorado along with his four year old little girl. Since the early 1960s he has devoted much of his time to his specialized guitar shop in Colorado Springs. Johnny Smith continues to be thought of as possibly the greatest pickstyle jazz guitar player that has ever lived. He has perfect pitch along with perfect technique and has been called "The John Williams of the pickstyle jazz guitar".

Jazz guitar giant

Barney Kessel summed it up perfectly when he said "Nobody plays jazz guitar better than Johnny Smith". The majority of other famous jazz guitar players would certainly concur and Johnny Smith's legendary jazz guitar virtuoso status will most likely remain forever! Johnny Smith died on June 11, 2013 at the age of 90.

Johnny Smith - Approach To Guitar - Book
Jazz guitar virtuoso Johnny Smith presents his complete system of chord analysis, scale and arpeggio study, and practical theory application. This is one of the most useful books to be found in any jazz guitarist's library! Lessons include 2-octave scales, 6th chord forms, alterations of chords, resolution exercises, scales and arpeggios, upper extensions from 9th to 13th chords, suspended fourth chords, voicing major and minor chords with a 4th step melody, alterations of upper extended chords and much, much more!
Standard notation........................................................................Price - $34.95

Johnny Smith Plays "What Are You Doing For The Rest Of Your Life"

Johnny Smith - Guitar Solos - Book
Transcribed by Steve Silverman from the original recordings by Johnny Smith. Book includes Johnny's single note improvised solos for: "I'll Remember April, Dancing On The Ceiling, East Of The Sun, Easy To Love, It Could Happen To You, There's A Small Hotel, In The Wee Small Hours Of The Morning, Have You Met Miss Jones, Love For Sale, Lover, Lover Man, I'm Getting Sentimental Over You, Moonlight in Vermont, 'S Wonderful, Taboo, Tea For Two, Tickle Toe, Walk Don't Run, What's New, Where Or When, Zing Went The Strings of My Heart".
Standard notation........................................................................Price - $19.95

Johnny Smith Plays "East Of The Sun"

Lin Flanagan - Moonlight In Vermont: The Official Biography Of Johnny Smith - Book
Johnny Smith (1922-2013) was the jazz guitarist's jazz guitarist! During the 1950s, he worked for the network broadcasters in New York while also playing regularly at clubs such as Birdland opposite Count Basie, Dizzy Gillespie, Miles Davis, George Shearing and many other legends of jazz. He was the most revered guitarist on the New York jazz scene during a golden era. His technical virtuosity, quality of tone, musical sophistication and literacy were unrivaled in jazz guitar circles. Many celebrated jazz guitarists still consider him to be the benchmark of musicianship by which all others are measured. This is the biography of the man whom many jazz guitar legends call "The Master".
(256 pages)....................................................................................Price - $24.95

Johnny Smith Plays "Moonlight In Vermont"

Wolf Marshall - The Best Of Jazz Guitar - Book and Online Audio
Guitarist Wolf Marshall presents a step-by-step breakdown of the guitar styles and techniques of some of the greatest jazz guitarists of all time! Several versions are presented of each song allowing you to see how different guitarists would arrange the same piece of music! Each piece - some are single note improvised solos while others are chord melody solos - also includes harmonic analysis and performance notes! Songs include: "St. Thomas" - Jim Hall, Tal Farlow, Kenny Burrell, "All Blues" -George Benson, Kenny Burrell, Pat Martino, "So What" -Barney Kessel, George Benson, "All The Things You Are" -Hank Garland, Pat Metheny, "Honeysuckle Rose" -Joe Pass and Herb Ellis, Charlie Christian, "Satin Doll" -Howard Roberts, Joe Pass, "Yesterdays" -Johnny Smith, Tal Farlow, Wes Montgomery, "Misty" -Barney Kessel, Wes Montgomery, Howard Roberts, "I'll Remember April" -Johnny Smith, Grant Green, "How Insensitive" -Pat Martino, Emily Remler. Each selection also includes authentic matching audio with backing tracks!
Notation and tab....................................................................Price - $29.95
Click To Hear Audio Samples

Johnny Smith Plays "I'll Remember April"

Johnny Smith - Chord Melody Solo Arrangements - Sheet Music
This exclusive collection of Johnny Smith jazz guitar chord melody solos was transcribed note for note by Stacy McKee (Les Brown & The Band Of Renown) from numerous Johnny Smith recordings and includes dozens of Johnny's best guitar solos written in block chord diagram form and/or standard notation and tab for the pickstyle guitarist! These beautiful Johnny Smith chord melody solos can now be purchased individually, allowing you to "hand-pick" which songs you want to learn. These are the full-length versions of each song including the single note improvised solos exactly the way Johnny played them on his legendary record albums!
Sheet music...................................................................................Price - $3.00 Each

Click Here For a Sample of Johnny Smith's
Chord Melody Solo of "Moonlight in Vermont"

*Johnny Smith Chord Melody Solos - $3.00 Each*

CD - Chord Diagram Format
SN - Standard Notation
T - Tab

0500 Blues - SN
A Foggy Day - CD & SN
Angel Eyes - CD & SN
Autumn In New York - CD
Autumn Nocturne - SN & T
Autumn Leaves - CD & SN
Black Is The Color Of My True Love's Hair - SN & T
By The Time I Get To Phoenix - CD
Dancing In The Dark - CD
Dancing On the Ceiling - CD
Darn That Dream - CD
Django - CD & SN
Dreamsville - CD
East Of The Sun - CD
Emily - CD
Everything Happens To Me - CD & SN
Exodus Theme - CD & SN
Fools Rush In - CD

Johnny Smith Plays "Golden Earrings"

Golden Earrings - SN & T
Goodbye - CD
Here's That Rainy Day - CD & SN
I Remember The Cornfields - CD
I Can't Get Started With You - SN
I Could Have Told You - CD & SN
I Didn't Know What Time It Was - CD
I Love You Porgy - SN & T
I'll Remember April - CD
I'll Take Romance - CD
I'll Remember Clifford - CD & SN
I'll Be Around - CD
I'm Old Fashioned - SN & T
Imagination - SN
Isn't It Romantic - CD
It Might As Well Be Spring - CD
Laura - CD
Lil' Darling - CD
Little Girl Blue - SN & T
Lover - CD

Johnny Smith Plays "Exodus Theme"

Memories Of You - CD & SN
Michelle - SN
Mood Indigo - CD & SN
Moonlight In Vermont - CD
My Funny Valentine - SN & T
My One And Only Love - CD
My Romance - SN & T
Old Folks - SN & T
Our Love Is Here To Stay - CD
People Will Say We're In Love - CD
Polka Dots And Moonbeams - CD & SN
Prelude & Pavanne - SN
Romance De Los Pinos - SN & T
Round Midnight - SN & T
Scarborough Fair - CD
Scarlet Ribbons - CD
Send In The Clowns - SN & T
Sentimental Journey - CD & SN
Shenandoah - SN & T
Someone To Watch Over Me - CD
Stars Fell On Alabama - CD

Johnny Smith Plays "I'm Old Fashioned"

Tea For Two - CD
Tenderly - CD
The Boy Next Door - CD & SN
The Girl From Ipanema - CD
The Green Leaves Of Summer - CD
This Guy's In Love In You - CD
The Maid With The Flaxen Hair - SN & T
The Nearness Of You - CD
The Shadow Of Your Smile - CD & SN
Wait Till You See Her - SN & T
Walk, Don't Run - SN
What's New - CD
When I Fall In Love - CD
Willow Weep For Me - CD & SN
Yesterday (Beatles) - SN & T
Yesterdays (Jerome Kern) - CD
You Are Too Beautiful - CD & SN
You Don't Know What Love Is - CD
You'd Be So Nice To Come Home To - SN

Johnny Smith Plays "The Boy Next Boy"

Chord Melody's New DVD Digital Download Service
Now you can download over 3,700 DVDs instantly!

Guitarists who like Johnny Smith also like:
The Hank Mackie Solo Guitar Collection

The Huey Long Solo Guitar Collection

The Stacy McKee Solo Guitar Collection

Johnny Smith - Jazz Guitar Virtuoso!
Compiled & Edited By Steven Herron

Johnny Smith is one of the most amazing jazz guitar players to come to notability after Charlie Christian and Django Reinhardt made their marks on the jazz guitar music scene. Just as at home with a jazz music group or a studio orchestra, as a bandleader or an unaccompanied soloist, in a duet along with a singer or a pop music recording session, he is one of a small handful of jazz artists whose work achieved terrific public recognition at the very beginning of his career. Following his initial breakthrough, Johnny Smith climbed in recognition to turn into one of the world's most visible and admired jazz guitarists along with a series of definitive recordings on the Royal Roost label. By the time he entered into semi-retirement in 1957 and relocated to Colorado, Johnny Smith had achieved virtuoso standing as a jazz guitarist!

Along with obtaining the accolades of the jazz world, Johnny Smith's 1952 famous record of "Moonlight in Vermont" along with Stan Getz went on to turn into one of the largest selling instrumental songs of all time. Moreover, Johnny Smith is the author of another well known instrumental hit, "Walk, Don't Run," which has come to be a rock and roll garage band standard and part of music Americana. Tape recorded by Johnny Smith in its original form in 1954, the appealing classical guitar tinged jazz music piece was ultimately recorded by his friend Chet Atkins and was eventually made in to a mega-hit by The Ventures. Such is the transcendent musicianship of the man and the range of his influence.

Johnny Smith Plays "This Guy's In Love With You"

For numerous guitarists, Johnny Smith is the personification of the "cool jazz" scene. His downplayed virtuosity, cool-toned guitar sound, and highly individualistic recordings like the experimental "Flower Drum Song" (which blended a cello along with a jazz music trio) and The New Johnny Smith Quartet furthered this perception. Taken in the completeness of his work, these unheard of settings show Johnny to be a diverse artist who resists classification within the rigid structures of jazz music.

To listen to Johnny Smith tell it, he doesn't belong in the annals of jazz guitar. Be that as it may, this self-effacing master is one of the most revered jazz guitarists in the genre. Simply ask modern day jazz guitar virtuosos John Scofield, Larry Carlton, John McLaughlin, George Benson, Larry Coryell, Jimmy Bruno, or Pat Martino. These players and lots of others hold Johnny Smith as a legendary role model in jazz guitar, yet the maestro himself isn't so certain. He keeps the "jazz music guitar player label" for players like Joe Pass, Wes Montgomery, and Tal Farlow and considers his own guitar playing to be something eclectic and divergent. The semantics battles notwithstanding, the name Johnny Smith is synonymous with jazz guitar excellence. For years, he has been revered by legions of serious guitarists for his precision technique, progressive harmonic feeling, and the sheer elegance of his guitar tone!

Johnny Smith Plays "Round Midnight"

The eclectic Johnny Smith approach is based on the colorful mixture of his diverse musical passions. He has regularly cited Spanish classical guitar maestro Andres Segovia and French Gypsy jazz guitar innovator Django Reinhardt as his main guitar influences. A self-taught guitarist, Johnny Smith developed his powerful technique as a youth playing along with The Chesterfield Supper Club Band on the radio. An important aspect in his background is the very early hillbilly country music he learned to play as a member of The Fenton Brothers -- his first professional band in 1939.

History has it that jazz guitar player Johnny Smith picked up the guitar at age 5, originally encouraged by his dad who was a five-string banjo player, and turned out to be accomplished on the viola, trumpet, and violin in addition to the guitar. He was likewise an expert arranger and was a very sought after studio guitarist in the 1950s. In 1982, Johnny Smith claimed George Van Eps as his all time favorite jazz guitar player but also cited Carl Kress as important for his chord playing. He also spoke of Chuck Wayne, Jimmy Raney, Joe Pass, Wes Montgomery, George Benson, Pat Martino, Jim Hall, and Harry Leahey as single-line jazz guitar players he admired.

Johnny Smith Plays "Black Is The Color Of My True Love's Hair"

Johnny Smith is one of the original virtuosos of the electric guitar. From the sweeping three octave runs of "Moonlight in Vermont," "Tea for Two," and "Easy Living," to the super quick articulate solos that differentiate "Tabu," "Jaguar," "I'll Remember April," "Un Poco Loco," "Samba," "'S Wonderful," "Tickle Toe," "Three Little Words," and "Time After Time," Johnny Smith's intricate yet listenable single note jazz guitar improvised solos are the stuff of legend in the history of guitar lore - jazz or otherwise.

Exacting precision and technique expertise have long been hallmarks of the Johnny Smith jazz guitar methodology, nevertheless these factors have been constantly held in check by his sense of taste and clarity. Jazz guitar virtuoso Barney Kessel once summed it up nicely along with his now famous observation: "No one in the world plays jazz guitar better than Johnny Smith".

Johnny Smith Plays "Autumn Nocturne"

Johnny Smith is one of the most distinctive jazz guitar chord melody players in any kind of genre. Envision the jazz chord voicings of pianists Art Tatum and George Shearing combined with the impressionistic harmonic colors of Claude Debussy, performed and understood on an electric guitar and you have an inkling of how Johnny Smith improved the status of the guitar as a chordal instrument.

Quintessential jazz guitar chord melody moments in Johnny Smith's Royal Roost recordings feature "Moonlight in Vermont," "Yesterday," "When I Fall in Love," "I Didn't Know What Time It Was," "You Don't Know What Love Is," "Villa," "I'll Remember Clifford," "My Romance," and "The Lady Is a Tramp." An early recording of "Autumn Leaves" finds Johnny Smith developing a flamenco inspired atmosphere with spectacular arabesque, double-timed passage performances and classically inspired chords on acoustic guitar. And the unusual chiming harmonics in the theme of "It Never Entered My Mind" make the recording worth the price of admission alone.

Johnny Smith Plays "Tenderly"

In retrospect, an incongruous Royal Roost record like "The Man With The Blue Guitar" appears an obvious example of Johnny Smith's broader musical pallet. This 1962 recording featured him in a solo guitar context for an entire album creating his plectrum magical sounds along with an assorted set of standards, classical, and folk pieces. Here his gorgeous tone, touch, and technique on the instrument are directed at well known Broadway show tunes by Rodgers and Hart, George Gershwin and others, modern day works by Debussy, Scriabin, and Ravel, and unique arrangements of older folk tunes like "Shenandoah" and "Black Is The Color Of My True Love's Hair." Further proof of Johnny Smith's eclectic nature was displayed on his "Phase 2" album (Verve Records) of the 1960s. This "jazz" record album featured the maestro's take on often neglected pop tunes like "Exodus," "Don't Sleep In The Subway Darling," "This Guy's In Love With You," "Sunny," "Light My Fire" and "Yesterday".

Jazz Guitar Chords & Arpeggio Patterns - Stacy McKee - This unique book includes 300 jazz guitar chord formations and matching single note arpeggio patterns in a quick reference format that no one has ever done before! Cross indexing makes this manual extremely easy to use and regardless of what style of music you play, we know you will find this to be a valuable, "must have" addition to your library. Stacy McKee was the featured guitarist with "Les Brown and The Band Of Renown" and for a limited time only, we will include an exclusive copy of his book FREE with your first order!
==> Click here to see the Stacy McKee Chord Melody Solo Collection <==

Wikipedia article on Johnny Smith
Wikipedia article on jazz guitar

Please get in touch with us personally if you have any questions.
U.S. residents call Toll-Free 1-800-913-9477
Outside the U.S. call 1-843-838-2657

You can easily place your order Toll Free by calling 1-800-913-9477 now!
OR click on this link to use our Secure Order Form All orders are backed by
our "exclusive" 30-Day No-Risk Guarantee! See Our Guarantee!

Chord Melody Productions PO Box 569 Beaufort, SC 29901


1-800-913-9477 -Toll Free 843-838-2657 - Phone 843-838-7381 - Fax chordmelod@aol.com

.............................................Home Page.......................................Secure Order Form.........................................