John Abercrombie Guitar Tab Books, Instruction DVDs, Solos, Improvisation, Video Lessons
*FREE BOOK - "Jazz Guitar Chords & Arpeggio Patterns" by Stacy McKee (with 1st order)*
..................................................Chord Melody Guitar Music.......................................................
1-800-913-9477 -Toll Free 843-838-2657 - Phone 843-838-7381 - Fax chordmelod@aol.com
Acoustic Guitar Books/DVDs..........Classical Guitar Books/DVDs.............Lick Library Guitar DVDs
Beginner's Guitar Books/DVDs.......Country Guitar Books/DVDs..............Play Along Guitar Books/DVDs
Blues Guitar Books/DVDs................Flamenco Guitar Books/DVDs............Religious Guitar Books/DVDs
Brazilian Guitar Books/DVDs..........Jazz Guitar Course Books/DVDs........Robert Conti Guitar Books/DVDs
Celtic Guitar Books/DVDs................Jazz Guitar Books/DVDs (A-K)..........Rock Guitar Books/DVDs
Christian Guitar Books/DVDs..........Jazz Guitar Books/DVDs (L-Z)...........Spanish Guitar Books/DVDs
Secure Order Form
*Click Here For Featured DVDs Of The Week On Sale!!
==> Click Here To Search By Artist Name or Band Name <==
Need Help Choosing The Right Guitar Book or Video? Peabody Conservatory
trained guitarist Steven Herron is available to answer questions and make recommendations
that will help you become a better guitarist! Just call Toll-Free 1-800-913-9477 now!!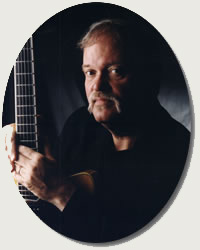 John Abercrombie
John Abercrombie is without question a master of the jazz guitar! He is the consummate "musician's musician," a wonderfully creative composer, improviser and educator. His ability to communicate with his audiences and with students is a delight to behold in person.

Born in 1944 in Port Chester, New York, John grew up in Greenwich, Connecticut and began playing the guitar at fourteen years of age. By the time he was out of high school, he was ready to veer away from imitative Chuck Berry licks in favor of learning to play the instrument more seriously. While enrolled at Boston's Berklee School of Music, Abercrombie worked with other students and played local clubs and bars. "It was pretty much your standard guitar-organ-drums set up," he recalls.

An offer to tour with organist Johnny Hammond Smith led to his going on the road for weeks at a time, playing such spots as Count Basie's Lounge and the Club Baron in Harlem. During that same period, John met the Brecker Brothers, who were in the process of forming Dreams. They invited Abercrombie to play with them, and he was heard on Dreams's debut album on Columbia.

In 1969, following graduation, Abercrombie decided to head South in hopes of breaking into the New York music scene. In the next few years he developed into one of New York's most in-demand session musicians. He did record dates with Gil Evans, Gato Barbieri, Barry Miles and many other artists, and also became a regular with Chico Hamilton's group.

It was as the guitarist in Billy Cobham's band that Abercrombie first began attracting widespread attention among the general public. This ensemble was something of a Dreams reunion since it also included the Brecker Brothers. Abercrombie is heard on Cobham's "Crosswinds" and "Total Eclipse." John Abercrombie possesses a unique voice as a jazz guitarist combining evolving technologies with a tradition well-represented by jazz standards.

Further insight comes forth in a 1988 "Jazziz" interview: "Carrying the tradition of jazz guitar from Charlie Christian and Django Reinhardt to the present day is a very important aspect of my music... I'd like people to perceive me as having a direct connection to the history of jazz guitar, while expanding some musical boundaries which may not always involve the guitar itself." John Abercrombie died at the age of 72 in 2017 from heart failure.

John Abercrombie - Jazz Guitar Improvisation - Digital Download
John goes back to the basics of improvisational technique with a unique series of exercises - playing on one string, creating half and quarter note phrases, and using 2 notes per measure. He demonstrates with his own compositions and the standard "Stella By Starlight". These pieces will provide you with ideas on melodic and motive development, polychording, dynamics, rhythmic changes and other skills.
(90 min) Printable Tab Booklet............................................Price - $24.95

John Abercrombie - An Evening With John Abercrombie - DVD
A collection of performances and conversations with John Abercrombie includes thoughts on: improvising over standards, free improvisation, guitar synthesis, use of scales, compositions, and more. Enjoy John's insight, humor and brilliant playing.
(60 min)...................................................................................Price - $24.95

John Abercrombie Plays "The Days Of Wine And Roses"

John Abercrombie & Andy Laverne - The Art Of The Duo - DVD
This DVD recording of John Abercrombie and Andy LaVerne is the most recent in a musical and personal relationship that has spanned some 25 years! In the past, John and Andy usually played some standard material - but for this project only original songs by the two of them were recorded. In this way, the performance of the duo is more personal than ever. The emphasis here is the interaction and blend of the instruments, as opposed to just the individual solos. In the duo, things become more exposed and the responsibility of each player becomes greater. It's a challenging and also extremely rewarding situation! Songs include: "Good Measure, Any Given Time, Just a Waltz, Comfort Zone, Jasmine, Handy Number, Crystal Night, Avion, Forty Three, After Ours, On The Bright Side, Kaddish".
(69 min)...................................................................................Price - $24.95

The John Abercrombie Trio "Live"

Chord Melody's New DVD Digital Download Service
Now you can download over 3,700 DVDs instantly!

Guitarists who like John Abercrombie also like:
The Hank Mackie Solo Guitar Collection

The Huey Long Solo Guitar Collection

The Johnny Smith Solo Guitar Collection

Jazz Guitar Chords & Arpeggio Patterns - Stacy McKee - This unique book includes 300 jazz guitar chord formations and matching single note arpeggio patterns in a quick reference format that no one has ever done before! Cross indexing makes this manual extremely easy to use and regardless of what style of music you play, we know you will find this to be a valuable, "must have" addition to your library. Stacy McKee was the featured guitarist with "Les Brown and The Band Of Renown" and for a limited time only, we will include an exclusive copy of his book FREE with your first order!
==> Click here to see the Stacy McKee Chord Melody Solo Collection <==

Wikipedia article on John Abercrombie
Wikipedia article on jazz guitar

Please get in touch with us personally if you have any questions.
U.S. residents call Toll-Free 1-800-913-9477
Outside the U.S. call 1-843-838-2657

You can easily place your order Toll Free by calling 1-800-913-9477 now!
OR click on this link to use our Secure Order Form All orders are backed by
our "exclusive" 30-Day No-Risk Guarantee! See Our Guarantee!

Chord Melody Productions PO Box 569 Beaufort, SC 29901


1-800-913-9477 -Toll Free 843-838-2657 - Phone 843-838-7381 - Fax chordmelod@aol.com

.............................................Home Page.......................................Secure Order Form.........................................