Jack Wilkins Guitar Tab Books, Instructional DVDs, Chord Melody Solos, Arrangements, Video Lessons
*FREE BOOK - "Jazz Guitar Chords & Arpeggio Patterns" by Stacy McKee (with 1st order)*
..................................................Chord Melody Guitar Music.......................................................
1-800-913-9477 -Toll Free 843-838-2657 - Phone 843-838-7381 - Fax chordmelod@aol.com
Acoustic Guitar Books/DVDs..........Classical Guitar Books/DVDs.............Lick Library Guitar DVDs
Beginner's Guitar Books/DVDs.......Country Guitar Books/DVDs..............Play Along Guitar Books/DVDs
Blues Guitar Books/DVDs................Flamenco Guitar Books/DVDs............Religious Guitar Books/DVDs
Brazilian Guitar Books/DVDs..........Jazz Guitar Course Books/DVDs........Robert Conti Guitar Books/DVDs
Celtic Guitar Books/DVDs................Jazz Guitar Books/DVDs (A-K)..........Rock Guitar Books/DVDs
Christian Guitar Books/DVDs..........Jazz Guitar Books/DVDs (L-Z)...........Spanish Guitar Books/DVDs
Secure Order Form
*Click Here For Featured DVDs Of The Week On Sale!!
==> Click Here To Search By Artist Name or Band Name <==
Need Help Choosing The Right Guitar Book or Video? Peabody Conservatory
trained guitarist Steven Herron is available to answer questions and make recommendations
that will help you become a better guitarist! Just call Toll-Free 1-800-913-9477 now!!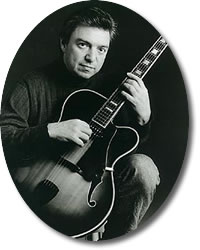 Jack Wilkins
For more than four decades Jack Wilkins has played an important role in the New York jazz community. His list of credentials and past performances reads like Who's Who of Jazz. Over the years he has backed many of finest jazz singers from Mel Torme, Ray Charles, Morgana King, Sarah Vaughan, Tony Bennett, to the Manhattan Transfer, Nancy Marano, Stanley Turrentine and Jay Clayton.

Most recently, Wilkins has shared the stage with jazz greats: Jimmy Heath, The Mingus Epitaph and jazz bassist Eddie Gomez. Born in Brooklyn, NY, Jack began playing the guitar at the early age of ten. His childhood idols included Django Reinhardt, Charlie Christian, Wes Montgomery, Bill Evans, Clifford Brown, Freddie Hubbard and Johnny Smith. In 1973, at the age of 29, Jack recorded his first album as a leader.

Since then he has recorded numerous projects on many different labels. Besides his extensive recording and performing career, Jack Wilkins has written several books and recently was featured in a live concert DVD with his friend and fellow jazz guitarist, Jimmy Bruno entitled Jimmy Bruno and Jack Wilkins: Live from The Theatre in Washington, Virginia presented by The Benedetto Players. Jack Wilkins has been awarded an NEA grant in recognition of his artistic achievement and contributions to guitar.

He was invited to the Smithsonian Institution to take part in the "Blue Guitars" exhibit, and appeared on the P.S. I. first live jazz Internet concert. He was also featured as part of the J.V.C. New York festival tribute to Johnny Smith, Tal Farlow and Herb Ellis and Barney Kessel. Jack Wilkins teaches at The New School and Manhattan School of Music and frequently conducts seminars and guitar clinics, both in New York and abroad.

Jack Wilkins - Jazz Guitar Workshop - DVD *Out Of Print*
Virtuoso jazz guitarist Jack Wilkins teaches single note improvised soloing over 2-5-1 progressions through the circle of 5ths while introducing arpeggios that fit this important progression. On-screen numbers help correlate the numerous examples with monologue and performance. The tritone substitution is also thoroughly explained and demonstrated. Jack then introduces 5 basic arpeggios: major 7, minor 7, dominant 7, minor half-diminished, and diminished. The powerful concept of contrary motion - bass line versus melody is explained for use in chord melody soloing. The Dorian mode and scales in general are also taught with Jack playing with a pick, pick and fingers together, and fingerstyle! The booklet download for this DVD is detailed and very helpful. Includes an incredible solo guitar rendition of "Here's That Rainy Day" in chord melody style!
(80 min)..................................................................................Price - $24.95

Jack Wilkins Plays "Here's That Rainy Day"

Jazz Guitar Standards: Chord Melody Solos - Book and Online Audio
Chord melody arrangements for solo guitar include: "Body and Soul, Can't Help Lovin' That Man, I've Got You Under My Skin, What's New" -arranged by Ron Berman, "All The Things You Are, April in Paris, East of the Sun, Honeysuckle Rose, In Your Own Sweet Way, Just Friends" -arranged by Chris Buzzelli, "A Foggy Day, I Could Write a Book" -arranged by Charles Chapman, "Beautiful Love, Yesterdays" -arranged by Corey Christiansen, "How High the Moon, Moonlight in Vermont" -arranged by Mike Christiansen, "As Time Goes By, Bluesette, Bye Bye Blackbird, Invitation, It Don't Mean a Thing, You Stepped Out of a Dream" -arranged by Dave Frackenpohl, "All of You, But Not for Me" -arranged by Barry Greene, "The Days of Wine and Roses, Have You Met Miss Jones, Smoke Gets in Your Eyes, You Go to My Head" -arranged by Sid Jacobs, "I Love You, Watch What Happens" -arranged by Ken Karsh, "Alone Together, Lover Man, My Funny Valentine, Night and Day" -arranged by LaRue Nickelson, "I Can't Get Started, Satin Doll, Summertime" -arranged by John Purse, "The Way You Look Tonight, What Is This Thing Called Love" -arranged by Bruce Saunders, "Misty, Speak Low" -arranged by Rick Stone, "Embraceable You, Long Ago, Someone to Watch Over Me' -arranged by Jack Wilkins.
Notation and tab / Fingerstyle and pickstyle...................Price - $29.95

"All The Things You Are" Arranged By Chris Buzzelli

Chord Melody's New DVD Digital Download Service
Now you can download over 4,000 DVDs instantly!

Guitarists who like Jack Wilkins also like:
The Hank Mackie Solo Guitar Collection

The Huey Long Solo Guitar Collection

The Johnny Smith Solo Guitar Collection

Jazz Guitar Chords & Arpeggio Patterns - Stacy McKee - This unique book includes 300 jazz guitar chord formations and matching single note arpeggio patterns in a quick reference format that no one has ever done before! Cross indexing makes this manual extremely easy to use and regardless of what style of music you play, we know you will find this to be a valuable, "must have" addition to your library. Stacy McKee was the featured guitarist with "Les Brown and The Band Of Renown" and for a limited time only, we will include an exclusive copy of his book FREE with your first order!
==> Click here to see the Stacy McKee Chord Melody Solo Collection <==

Wikipedia article on Jack Wilkins
Wikipedia article on jazz guitar

Please get in touch with us personally if you have any questions.
U.S. residents call Toll-Free 1-800-913-9477
Outside the U.S. call 1-843-838-2657

You can easily place your order Toll Free by calling 1-800-913-9477 now!
OR click on this link to use our Secure Order Form All orders are backed by
our "exclusive" 30-Day No-Risk Guarantee! See Our Guarantee!

Chord Melody Productions PO Box 569 Beaufort, SC 29901


1-800-913-9477 -Toll Free 843-838-2657 - Phone 843-838-7381 - Fax chordmelod@aol.com

.............................................Home Page.......................................Secure Order Form.........................................