Corey Christiansen Guitar Tab Books, Instruction DVDs, Solos, Arrangements, Video Lessons
*FREE BOOK - "Jazz Guitar Chords & Arpeggio Patterns" by Stacy McKee (with 1st order)*
..................................................Chord Melody Guitar Music.......................................................
1-800-913-9477 -Toll Free 843-838-2657 - Phone 843-838-7381 - Fax chordmelod@aol.com
Acoustic Guitar Books/DVDs..........Classical Guitar Books/DVDs.............Lick Library Guitar DVDs
Beginner's Guitar Books/DVDs.......Country Guitar Books/DVDs..............Play Along Guitar Books/DVDs
Blues Guitar Books/DVDs................Flamenco Guitar Books/DVDs............Religious Guitar Books/DVDs
Brazilian Guitar Books/DVDs..........Jazz Guitar Course Books/DVDs........Robert Conti Guitar Books/DVDs
Celtic Guitar Books/DVDs................Jazz Guitar Books/DVDs (A-K)..........Rock Guitar Books/DVDs
Christian Guitar Books/DVDs..........Jazz Guitar Books/DVDs (L-Z)...........Spanish Guitar Books/DVDs
Secure Order Form
*Click Here For Featured DVDs Of The Week On Sale!!
==> Click Here To Search By Artist Name or Band Name <==
Need Help Choosing The Right Guitar Book or Video? Peabody Conservatory
trained guitarist Steven Herron is available to answer questions and make recommendations
that will help you become a better guitarist! Just call Toll-Free 1-800-913-9477 now!!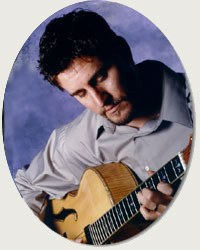 Corey Christiansen
Corey Christiansen began playing the guitar at the age of five. He studied with his father, Mike Christiansen, (a seasoned performer, writer, and educator at Utah State University) until he finished his bachelor degree. While at Utah State University, Corey received many honors and awards including the outstanding music student award and outstanding guitarist. The Lionel Hampton Jazz Festival awarded Corey with outstanding big band guitarist in 1995 and outstanding solo guitarist in 1995 and 1996.

Seeking a masters degree in jazz performance, Corey sought out renowned jazz guitar educator, Jack Petersen and began studies as a graduate teaching assistant at the University of South Florida. He received his masters degree in jazz performance in the spring of 1999. Jack Petersen retired that same year and Corey was hired to take his place as the adjunct guitar instructor. While teaching at the University of South Florida, Corey worked with the jazz guitar students and directed many of the jazz combos.

Corey left U.S.F. to pursue a career as a guitar editor. Corey has a musical background covering many styles of music including jazz, blues, classical, bluegrass, folk, rock and popular music. This quality has enabled him to perform in a number of different settings. In 2007 Corey moved back to his home state of Utah to work at The Music School located in American Fork, UT as the head of curriculum.

Corey Christiansen - Essential Jazz Lines: Charlie Parker - Book and Online Audio
Presents numerous lines and techniques in the style of Charlie Parker, grouped by the harmony they can be used against. Each idea or concept can be practiced with the accompanying play-along online audio. Chapters include information on guide tones (Bebop Scales, 3 to b9, playing the upper-structure of chords, targeting), minor chord material, dominant chord material, short ii-V material, major chord material, minor ii-V material, and turnarounds.
Notation and tab...................................................................Price - $19.95

Charlie Parker Plays "Donna Lee"

Corey Christiansen - Essential Jazz Lines: Grant Green - Book and Online Audio
This book focuses not only on lines in the style of Grant Green, but also some of the techniques he used. The jazz lines have been grouped by which type of chord or chords (major, minor, dominant seventh, etc.) they can be played against. Each section has a one or two chord vamp in one key to help guitarists hear how the line works against any given chord or chord progression. Play-along tracks for each harmonic situation moving around the circle of fourths help with learning the lines in all 12 keys. Before long, guitarists studying this method will have a vocabulary that will allow them to solo over the most common chord progressions in jazz. Eventually original ideas inspired by previously memorized lines will be created and an original voice will begin to emerge.
Notation and tab...................................................................Price - $19.95

Grant Green & Stanley Jordan "Live"

Corey Christiansen - Essential Jazz Lines: Joe Pass - Book and Online Audio
This book contains a study of lines used by Joe Pass, broken down and grouped according to how Joe used them harmonically. The play-along online audio exemplifies how these relate to a harmonic background. Each harmonic section contains a play-along recording in the original key and a play-along, moving in fourths, to help the student practice the lines in all twelve keys. Eventually, the student will learn to mix and match these ideas and create lines of their own. The more phrases and ideas a student has, the more they are able to improvise or juxtapose their ideas to create new melodies on their own.
Notation and tab...................................................................Price - $19.95

Joe Pass Plays "Yardbird Suite"

Corey Christiansen - Essential Jazz Lines: Wes Montgomery - Book and Online Audio
This book presents some of the soloing techniques that Wes Montgomery used and also presents many melodic ideas (lines) similar to the way he played over the chord progressions in many jazz standards. Because the major and minor ii-V-I progressions are the most widely used chord progressions in jazz standards, the lines in this text will work over these progressions. The online audio contains many play-along tracks (vamps of one chord and vamps around the circle of fourths) that the guitarist should use to practice the material in one key and then master it in all twelve keys. By learning the techniques used by Wes Montgomery, guitarists will add to their own improvising arsenal.
Notation and tab...................................................................Price - $19.95

Wes Montgomery Plays "Road Song"

Corey Christiansen - Playing In The Pocket - DVD
Comping, voicings and grooves for the serious jazz guitarist! These lessons focus on many aspects of rhythm guitar playing. Starting with four- to-the-bar comping (ala Freddie Green / big band rhythm playing) and ending with more modern concepts such as quartal harmony, this series of lessons will take any guitarist to the next level. Concepts covered are: three-note voicings, four to the bar comping, creating interesting bass-line motion through chord changes, finding and playing in the groove, two-note voicings (rootless voicings), guide tones, quartal harmony shapes and modal comping.
(175 min)................................................................................Price - $24.95

Corey Christiansen Plays "Half Pay"

Corey Christiansen - Blues & Funk Basics - DVD
In this lesson, Corey Christiansen teaches the basics of blues rhythm guitar, blues soloing and funk guitar concepts - which is geared towards the beginning/intermediate guitarist. Corey boils these concepts down to their most fundamental parts and explains how to get an authentic sound using some simple tricks of the trade. Includes lessons on: minor pentatonic and blues scale ideas & patterns, bending for authentic blues inflection, basic blues soloing ideas and phrasing concepts, barre chords and power chords with variations, chord fragments for tasty rhythm playing, authentic blues chord voicings, simple single-note funk ideas, the 12-bar blues form, subdividing the beat, 9th and 13th chords, common funk rhythms, blues licks, and double stop ideas. You can also download the free PDF chart that contains all the notation a guitarist needs to enhance the DVD lesson.
(124 min)................................................................................Price - $24.95

Corey Christiansen Plays "The Blues"

Chord Melody's New DVD Digital Download Service
Now you can download over 3,700 DVDs instantly!

Guitarists who like Corey Christiansen also like:
The Hank Mackie Solo Guitar Collection

The Huey Long Solo Guitar Collection

The Johnny Smith Solo Guitar Collection

Jazz Guitar Chords & Arpeggio Patterns - Stacy McKee - This unique book includes 300 jazz guitar chord formations and matching single note arpeggio patterns in a quick reference format that no one has ever done before! Cross indexing makes this manual extremely easy to use and regardless of what style of music you play, we know you will find this to be a valuable, "must have" addition to your library. Stacy McKee was the featured guitarist with "Les Brown and The Band Of Renown" and for a limited time only, we will include an exclusive copy of his book FREE with your first order!
==> Click here to see the Stacy McKee Chord Melody Solo Collection <==

Wikipedia article on jazz guitar
Wikipedia article on Bebop

Please get in touch with us personally if you have any questions.
U.S. residents call Toll-Free 1-800-913-9477
Outside the U.S. call 1-843-838-2657

You can easily place your order Toll Free by calling 1-800-913-9477 now!
OR click on this link to use our Secure Order Form All orders are backed by
our "exclusive" 30-Day No-Risk Guarantee!

See Our Guarantee!

Chord Melody Productions PO Box 569 Beaufort, SC 29901


1-800-913-9477 -Toll Free 843-838-2657 - Phone 843-838-7381 - Fax chordmelod@aol.com

.............................................Home Page.......................................Secure Order Form.........................................