Barry Greene Guitar Tab Books, Instruction DVDs, Chord Melody Solos, Arrangements, Lessons
*FREE BOOK - "Jazz Guitar Chords & Arpeggio Patterns" by Stacy McKee (with 1st order)*
..................................................Chord Melody Guitar Music.......................................................
1-800-913-9477 -Toll Free 843-838-2657 - Phone 843-838-7381 - Fax chordmelod@aol.com
Acoustic Guitar Books/DVDs..........Classical Guitar Books/DVDs.............Lick Library Guitar DVDs
Beginner's Guitar Books/DVDs.......Country Guitar Books/DVDs..............Play Along Guitar Books/DVDs
Blues Guitar Books/DVDs................Flamenco Guitar Books/DVDs............Religious Guitar Books/DVDs
Brazilian Guitar Books/DVDs..........Jazz Guitar Course Books/DVDs........Robert Conti Guitar Books/DVDs
Celtic Guitar Books/DVDs................Jazz Guitar Books/DVDs (A-K)..........Rock Guitar Books/DVDs
Christian Guitar Books/DVDs..........Jazz Guitar Books/DVDs (L-Z)...........Spanish Guitar Books/DVDs
Secure Order Form
*Click Here For Featured DVDs Of The Week On Sale!!
==> Click Here To Search By Artist Name or Band Name <==
Need Help Choosing The Right Guitar Book or Video? Peabody Conservatory
trained guitarist Steven Herron is available to answer questions and make recommendations
that will help you become a better guitarist! Just call Toll-Free 1-800-913-9477 now!!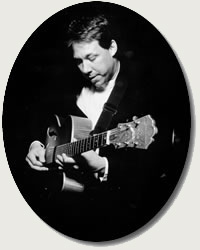 Barry Greene
Barry Greene began playing guitar in 1971 at the age of ten years old. Strongly influenced by Wes Montgomery, Joe Pass, George Benson and Pat Martino, Barry has developed into a world-class guitarist, arranger and composer. He has recorded or performed with such artists as Tim Hagens, Danny Gottlieb, Gene Bertoncini, Scott Wendholt, Kenny Drew Jr., Adam Nussbaum, Warren Berndhardt, Russell Malone, Ron Affif, and Colin Bailey.

Barry has six CD's out as a leader. "Sojourner", "At Home", "Urban Jazz", "In the Meantime" and the recently released "Barry Greene Trio" and "The Other Side". Just Jazz Guitar Magazine says, his improvisations were creative with impeccable technique. 20th Century Guitar wrote, it has all the urgency of the best of Pat Martino's work. All About Jazz.com had to say, an excellent player and a superior musician with power to spare.

Barry has several books published and continues to endorse Thomastik-Infeld strings, Clarus amplifiers, Raezors Edge speaker cabinets and Benedetto Guitars. He has performed five times at the Long Island Guitar Show held in New York and has been an instructor at the prestigious National Guitar Workshop held each summer in Connecticut for eight summers.

Barry Greene is also a Professor of Jazz Guitar at the University of North Florida in Jacksonville, where he has been since 1995. He teaches a guitar ensemble, as well as applied guitar, jazz history, improvisation and a course on recording with Pro Tools.

Barry Greene - Advanced Jazz Guitar Improvisation - Book and Online Audio
Written for the intermediate to advanced jazz guitarist, this book assumes an adequate knowledge of chord scales and jazz theory. The topics include: playing modally, chord substitutions, Coltrane substitutions, diminished and melodic minor scales as well as dealing with pentatonics.
Standard notation.................................................................Price - $17.95

Barry Greene Plays "Road Song"

Barry Greene - Solo Jazz Guitar Method - Book and Online Audio
These lessons are designed to teach any guitarist to compose chord melody arrangements for the guitar. Every method is discussed at length with over 50 musical examples given. The online audio will assure the student that he or she is playing the examples correctly. Topics include: harmonization and re-harmonization methods, analyzing melodies, dealing with extensions, creating slash chord harmony, quartal harmony, contrary motion, harmonizing non chord tones, tri-tone substitution, etc.
Standard notation with chord diagrams............................Price - $19.95

Barry Greene Plays "Pat's Blues"

Chord Melody's New DVD Digital Download Service
Now you can download over 4,000 DVDs instantly!

Guitarists who like Barry Greene also like:
The Hank Mackie Solo Guitar Collection

The Huey Long Solo Guitar Collection

The Johnny Smith Solo Guitar Collection

Jazz Guitar Chords & Arpeggio Patterns - Stacy McKee - This unique book includes 300 jazz guitar chord formations and matching single note arpeggio patterns in a quick reference format that no one has ever done before! Cross indexing makes this manual extremely easy to use and regardless of what style of music you play, we know you will find this to be a valuable, "must have" addition to your library. Stacy McKee was the featured guitarist with "Les Brown and The Band Of Renown" and for a limited time only, we will include an exclusive copy of his book FREE with your first order!
==> Click here to see the Stacy McKee Chord Melody Solo Collection <==

Wikipedia article on chord melody soloing
Wikipedia article on jazz guitar

Please get in touch with us personally if you have any questions.
U.S. residents call Toll-Free 1-800-913-9477
Outside the U.S. call 1-843-838-2657

You can easily place your order Toll Free by calling 1-800-913-9477 now!
OR click on this link to use our Secure Order Form All orders are backed by
our "exclusive" 30-Day No-Risk Guarantee!

See Our Guarantee!

Chord Melody Productions PO Box 569 Beaufort, SC 29901


1-800-913-9477 -Toll Free 843-838-2657 - Phone 843-838-7381 - Fax chordmelod@aol.com

.............................................Home Page.......................................Secure Order Form.........................................