Jim Nichols Guitar Tab Books, Instruction DVDs, Chord Melody Solos, Arrangements, Video Lessons
*FREE BOOK - "Jazz Guitar Chords & Arpeggio Patterns" by Stacy McKee (with 1st order)*
..................................................Chord Melody Guitar Music.......................................................
1-800-913-9477 -Toll Free 843-838-2657 - Phone 843-838-7381 - Fax chordmelod@aol.com
Acoustic Guitar Books/DVDs..........Classical Guitar Books/DVDs.............Lick Library Guitar DVDs
Beginner's Guitar Books/DVDs.......Country Guitar Books/DVDs..............Play Along Guitar Books/DVDs
Blues Guitar Books/DVDs................Flamenco Guitar Books/DVDs............Religious Guitar Books/DVDs
Brazilian Guitar Books/DVDs..........Jazz Guitar Course Books/DVDs........Robert Conti Guitar Books/DVDs
Celtic Guitar Books/DVDs................Jazz Guitar Books/DVDs (A-K)..........Rock Guitar Books/DVDs
Christian Guitar Books/DVDs..........Jazz Guitar Books/DVDs (L-Z)...........Spanish Guitar Books/DVDs
Secure Order Form
*Click Here For Featured DVDs Of The Week On Sale!!
==> Click Here To Search By Artist Name or Band Name <==
Need Help Choosing The Right Guitar Book or Video? Peabody Conservatory
trained guitarist Steven Herron is available to answer questions and make recommendations
that will help you become a better guitarist! Just call Toll-Free 1-800-913-9477 now!!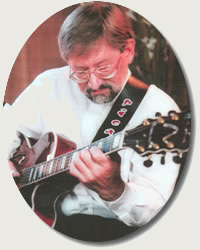 Jim Nichols
Jim Nichols has impressive credentials which include appearances on television, radio, concert halls, and clubs including Carnegie Hall and the Tonight Show. He has played and/or recorded with Kenny Rankin, Chet Atkins, Hubert Laws, Buddy Montgomery, Van Morrison, Toots Thielemans, Tom Waits and others.

Jim has taught clinics in the U.S. and in Europe including Stanford and Jamie Aebersold Jazz Workshops. He was featured at the 1997 Django Reinhardt Festival in France with the great European guitarists Romane and Martin Taylor.

Jim is featured on "The World of Fingerstyle Jazz Guitar" for Stefan Grossman's Guitar Workshop and has a Jazz Guitar instruction DVD for Bransong Music. His solo CD was chosen by Guitar Player Magazine as a "Pick of the Year" for 1996 and in January of 2001, Jim was interviewed in Fingerstyle Guitar Magazine.

Chet Atkins said in his autobiography Me and My Guitars: "And I know, as the torch is passed, our beloved instrument is in good hands with players like Jerry Reed, Tommy Emmanuel, Richard Smith, Jim Nichols, and Doyle Dykes".

Jim Nichols - Fingerstyle Jazz Guitar - DVD
Jim Nichols has been a part of the jazz guitar scene for over 4 decades. He has performed with artists such as Joe Pass, Toots Thielemans, Buddy Montgomery, Chet Atkins, Art Pepper, Julio Iglesias, Hubert Laws, Della Reese, Martin Taylor, Kenny Rankin and many more! Jim's music has taken him to the stages of Carnegie Hall, The Tonight Show and the Olympia Theater in Paris. In this superb instructional DVD, Jim gives you 86 different examples that clearly teach: altered scales and altered chords, easy ways to remember all of the modes, comping and chord substitution, walking bass lines combined with chords, single note improvising combined with chords, Lenny Breau style cascading harmonics, Bossa Nova rhythms and chord progressions, as well as right hand fingerstyle techniques for jazz guitar. He is a true master of this style! Songs include: "Blues for John, J.D. Blues, and The St. Louis Blues".
(94 min) Printable Tab Booklet...........................................Price - $29.95
Also Available For Instant Download - Click Here Now!

Chord Melody's New DVD Digital Download Service
Now you can download over 4,000 DVDs instantly!

Guitarists who like Jim Nichols also like:
The Hank Mackie Solo Guitar Collection

The Charlie Byrd Solo Guitar Collection

The Howard Heitmeyer Solo Guitar Collection

Jazz Guitar Chords & Arpeggio Patterns - Stacy McKee - This unique book includes 300 jazz guitar chord formations and matching single note arpeggio patterns in a quick reference format that no one has ever done before! Cross indexing makes this manual extremely easy to use and regardless of what style of music you play, we know you will find this to be a valuable, "must have" addition to your library. Stacy McKee was the featured guitarist with "Les Brown and The Band Of Renown" and for a limited time only, we will include an exclusive copy of his book FREE with your first order!
==> Click here to see the Stacy McKee Chord Melody Solo Collection <==

Wikipedia article on jazz guitar
Wikipedia article on fingerstyle guitar

Please get in touch with us personally if you have any questions.
U.S. residents call Toll-Free 1-800-913-9477
Outside the U.S. call 1-843-838-2657

You can easily place your order Toll Free by calling 1-800-913-9477 now!
OR click on this link to use our Secure Order Form All orders are backed by
our "exclusive" 30-Day No-Risk Guarantee! See Our Guarantee!

Chord Melody Productions PO Box 569 Beaufort, SC 29901


1-800-913-9477 -Toll Free 843-838-2657 - Phone 843-838-7381 - Fax chordmelod@aol.com

.............................................Home Page.......................................Secure Order Form.........................................