Jay Umble Guitar Tab Books, Instruction DVDs, Solos, Arrangements, Video Lessons
*FREE BOOK - "Jazz Guitar Chords & Arpeggio Patterns" by Stacy McKee (with 1st order)*
..................................................Chord Melody Guitar Music.......................................................
1-800-913-9477 -Toll Free 843-838-2657 - Phone 843-838-7381 - Fax chordmelod@aol.com
Acoustic Guitar Books/DVDs..........Classical Guitar Books/DVDs.............Lick Library Guitar DVDs
Beginner's Guitar Books/DVDs.......Country Guitar Books/DVDs..............Play Along Guitar Books/DVDs
Blues Guitar Books/DVDs................Flamenco Guitar Books/DVDs............Religious Guitar Books/DVDs
Brazilian Guitar Books/DVDs..........Jazz Guitar Course Books/DVDs........Robert Conti Guitar Books/DVDs
Celtic Guitar Books/DVDs................Jazz Guitar Books/DVDs (A-K)..........Rock Guitar Books/DVDs
Christian Guitar Books/DVDs..........Jazz Guitar Books/DVDs (L-Z)...........Spanish Guitar Books/DVDs
Secure Order Form
*Click Here For Featured DVDs Of The Week On Sale!!
==> Click Here To Search By Artist Name or Band Name <==
Need Help Choosing The Right Guitar Book or Video? Peabody Conservatory
trained guitarist Steven Herron is available to answer questions and make recommendations
that will help you become a better guitarist! Just call Toll-Free 1-800-913-9477 now!!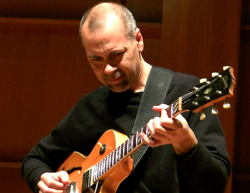 Jay Umble
Jay Umble has been a professional guitarist for over 30 years! In the early years, he spent his time with various rock and commercial groups. In the early 1980's Jay was on the road for four years with the Ron Smith Trio, an organ based group.

In the mid 80's to mid 90's he was the founder-leader of "In Transit", another organ based trio that focused on the Jazz-Blues idiom. The group played the music and arrangements of classic George Benson, Jack McDuff, Jimmy Smith, Charles Earland and others. "In Transit" also played jazz standards and original music.

Jay has studied with world-renowned guitarists Pat Martino and Joe Diorio and has released three recordings with material ranging from jazz to commercial. His latest recording, "Spirit Crossing" includes international percussionist Jamey Haddad from the Paul Simon Group. It has been said of Jay, "he is an abstract guitarist forging his own musical path".

He is on the music faculty of Bucknell University and Susquehanna University where he teaches guitar mechanics, harmony-theory, fretboard integration in addition to general guitar playing. His instructional books/CD's have been endorsed by such jazz greats as Steve Kahn, Pat Martino, Paul Bollenback, Barry Greene, Sid Jacobs and others!

Jay Umble - Improvisation Techniques For Jazz Guitar - Book and Online Audio
Lessons include: arpeggios, chromaticism, dominant perspectives, double stops, dynamics, harmonic manipulation, intervals, linear motion, melodic development, melodic displacement, melodic expansion, negative tonal space, octaves, parallel linear concepts, pedal tones, phrasing, random open strings, random triad improvising, rapid chord changes, repeatable motifs, resolution, rhythmic development, seconds and sevenths, side-slipping, sub-tonalities, symmetrical scales, targeting, three against four, and tonal centers.
Notation and tab..................................................................Price - $24.95
Click To Hear Audio Samples

Jay Umble Plays "The Days Of Wine & Roses"

Jay Umble - Payin' Your Dues With The Blues - Book and Online Audio
This book stands alone as the most comprehensive teaching method for the jazz-blues guitarist! It provides everything one needs to know to successfully master the jazz-blues style covering topics such as: harmonic form, linear concepts, comping, walking bass lines, background vamps, endings and much more! Packed with an abundance of practical examples, it offers something for everyone regardless of ability. This exploration of the jazz-blues will place you directly in the driver's seat once and for all! All topics are covered in depth and all examples are practical - enabling anyone to improve dramatically!
Notation and tab..................................................................Price - $24.95
Click To Hear Audio Samples

Jay Umble Plays "Blue In Green"

Chord Melody's New DVD Digital Download Service
Now you can download over 4,000 DVDs instantly!

Guitarists who like Jay Umble also like:
The Hank Mackie Solo Guitar Collection

The Huey Long Solo Guitar Collection

The Johnny Smith Solo Guitar Collection

Jazz Guitar Chords & Arpeggio Patterns - Stacy McKee - This unique book includes 300 jazz guitar chord formations and matching single note arpeggio patterns in a quick reference format that no one has ever done before! Cross indexing makes this manual extremely easy to use and regardless of what style of music you play, we know you will find this to be a valuable, "must have" addition to your library. Stacy McKee was the featured guitarist with "Les Brown and The Band Of Renown" and for a limited time only, we will include an exclusive copy of his book FREE with your first order!
==> Click here to see the Stacy McKee Chord Melody Solo Collection <==

Wikipedia article on jazz guitar
Wikipedia article on blues guitar music

Please get in touch with us personally if you have any questions.
U.S. residents call Toll-Free 1-800-913-9477
Outside the U.S. call 1-843-838-2657

You can easily place your order Toll Free by calling 1-800-913-9477 now!
OR click on this link to use our Secure Order Form All orders are backed by
our "exclusive" 30-Day No-Risk Guarantee! See Our Guarantee!

Chord Melody Productions PO Box 569 Beaufort, SC 29901


1-800-913-9477 -Toll Free 843-838-2657 - Phone 843-838-7381 - Fax chordmelod@aol.com

.............................................Home Page.......................................Secure Order Form.........................................