Craig Wagner Guitar Tab Books, Instruction DVDs, Solos, Arrangements, Video Lessons
*FREE BOOK - "Jazz Guitar Chords & Arpeggio Patterns" by Stacy McKee (with 1st order)*
..................................................Chord Melody Guitar Music.......................................................
1-800-913-9477 -Toll Free 843-838-2657 - Phone 843-838-7381 - Fax chordmelod@aol.com
Acoustic Guitar Books/DVDs..........Classical Guitar Books/DVDs.............Lick Library Guitar DVDs
Beginner's Guitar Books/DVDs.......Country Guitar Books/DVDs..............Play Along Guitar Books/DVDs
Blues Guitar Books/DVDs................Flamenco Guitar Books/DVDs............Religious Guitar Books/DVDs
Brazilian Guitar Books/DVDs..........Jazz Guitar Course Books/DVDs........Robert Conti Guitar Books/DVDs
Celtic Guitar Books/DVDs................Jazz Guitar Books/DVDs (A-K)..........Rock Guitar Books/DVDs
Christian Guitar Books/DVDs..........Jazz Guitar Books/DVDs (L-Z)...........Spanish Guitar Books/DVDs
Secure Order Form
*Click Here For Featured DVDs Of The Week On Sale!!
==> Click Here To Search By Artist Name or Band Name <==
Need Help Choosing The Right Guitar Book or Video? Peabody Conservatory
trained guitarist Steven Herron is available to answer questions and make recommendations
that will help you become a better guitarist! Just call Toll-Free 1-800-913-9477 now!!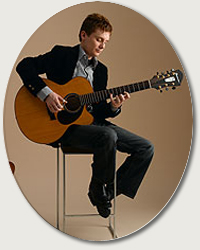 Craig Wagner
Craig Wagner began playing guitar when he was fifteen, after meeting Doc Watson and Merle Watson backstage at a bluegrass festival. Although it was the acoustic guitar sound that fascinated him initially, the first music he played was rock. His first learning experiences were drawn from the sounds of Jimi Hendrix, Led Zeppelin and The Cream.

After high school, he furthered his musical studies at Bellarmine College in Louisville, where he studied with Jeff Sherman. There Craig was introduced to jazz and encouraged to perform in ensembles and learn music theory. While at Bellarmine, he was fortunate to attend classes with jazz giants such as Jimmy Raney, Tal Farlow, Jim Hall, Howard Roberts, Herb Ellis and Attila Zoeller.

He received his bachelor's degree in Guitar Performance (with an emphasis on jazz) in 1993 and began making his living through private lessons and performing. His main creative outlets, besides solo guitar pursuits, have been with his jazz trio Java Men. The group plays original jazz compositions and has produced three successful CD's.

Craig has been a regularly featured performer and workshop presenter at the annual

Chet Atkins Appreciation Society convention in Nashville. He has also been a guitar instructor in the well-known Jamey Aebersold Jazz Workshop series. Presently he is performing, arranging, teaching and writing new guitar music. He looks forward to teaching at the University of Louisville in the fall of 2002.

Craig Wagner - The Art Of Solo Fingerstyle Guitar - DVD
Learn Craig Wagner's unique approach to advanced solo fingerstyle guitar! He turns the guitar into an entire musical orchestra with his adventurous techniques that incorporate 2 handed tapping, walking bass lines, exotic chords, moving inner chord voices, poly rhythms, arpeggios and banjo rolls! His forte is arranging advanced, polyphonic guitar solos and in this exciting DVD lesson he presents eye-popping arrangements of "Caravan, Cherokee, Chameleon, and Superstition".
(90 min) Printable Tab Booklet...........................................Price - $29.95
Also Available For Instant Download - Click Here Now!

Chord Melody's New DVD Digital Download Service
Now you can download over 4,000 DVDs instantly!

Guitarists who like Craig Wagner also like:
The Hank Mackie Solo Guitar Collection

The Howard Heitmeyer Solo Guitar Collection

The Chet Atkins Solo Guitar Collection

Jazz Guitar Chords & Arpeggio Patterns - Stacy McKee - This unique book includes 300 jazz guitar chord formations and matching single note arpeggio patterns in a quick reference format that no one has ever done before! Cross indexing makes this manual extremely easy to use and regardless of what style of music you play, we know you will find this to be a valuable, "must have" addition to your library. Stacy McKee was the featured guitarist with "Les Brown and The Band Of Renown" and for a limited time only, we will include an exclusive copy of his book FREE with your first order!
==> Click here to see the Stacy McKee Chord Melody Solo Collection <==

Wikipedia article on fingerstyle guitar
Wikipedia article on jazz guitar

Please get in touch with us personally if you have any questions.
U.S. residents call Toll-Free 1-800-913-9477
Outside the U.S. call 1-843-838-2657

You can easily place your order Toll Free by calling 1-800-913-9477 now!
OR click on this link to use our Secure Order Form All orders are backed by
our "exclusive" 30-Day No-Risk Guarantee! See Our Guarantee!

Chord Melody Productions PO Box 569 Beaufort, SC 29901


1-800-913-9477 -Toll Free 843-838-2657 - Phone 843-838-7381 - Fax chordmelod@aol.com

.............................................Home Page.......................................Secure Order Form.........................................