Randy Johnston Guitar Tab Books, Instruction DVDs, Solos, Arrangements, Video Lessons
*FREE BOOK - "Jazz Guitar Chords & Arpeggio Patterns" by Stacy McKee (with 1st order)*
..................................................Chord Melody Guitar Music.......................................................
1-800-913-9477 -Toll Free 843-838-2657 - Phone 843-838-7381 - Fax Steven@chordmelody.com
Acoustic Guitar Books/DVDs..........Classical Guitar Books/DVDs.............Lick Library Guitar DVDs
Beginner's Guitar Books/DVDs.......Country Guitar Books/DVDs..............Play Along Guitar Books/DVDs
Blues Guitar Books/DVDs................Flamenco Guitar Books/DVDs............Religious Guitar Books/DVDs
Brazilian Guitar Books/DVDs..........Jazz Guitar Course Books/DVDs........Robert Conti Guitar Books/DVDs
Celtic Guitar Books/DVDs................Jazz Guitar Books/DVDs (A-K)..........Rock Guitar Books/DVDs
Christian Guitar Books/DVDs..........Jazz Guitar Books/DVDs (L-Z)...........Spanish Guitar Books/DVDs
Secure Order Form
*Click Here For Featured DVDs Of The Week On Sale!!
==> Click Here To Search By Artist Name or Band Name <==
Need Help Choosing The Right Guitar Book or Video? Peabody Conservatory
trained guitarist Steven Herron is available to answer questions and make recommendations
that will help you become a better guitarist! Just call Toll-Free 1-800-913-9477 now!!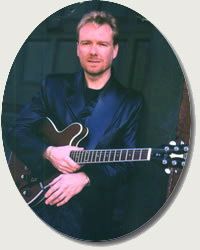 Randy Johnston
Electric Blues Meets Bebop: An exciting convergence of sounds that has made Randy Johnston one of the hottest jazz guitarists both in the United States and abroad.

April 2000 marked the release of "Homage", Randy's sixth recording as a leader and his second for J. Curve Records. His prior five CD's "Riding the Curve", "Somewhere In the Night", "In -A-Chord", "Jubilation" and "Walk On" have all achieved critical and commercial acclaim on an international basis.

Johnston's recordings have throughout the years featured and impressive array of sidemen including Joey Defrancesco, Kenny Washington, Benny Green, Nick Brignola, Eric Alexander, Idris Muhammad, and the legendary Johnny Griffin among others. These albums feature both original material and compositions drawn from the great American songbook as well as new interpretations of the classic jazz repertoire.

Born in Detroit, Michigan in 1956, Randy Johnston moved to Richmond, Virginia when he was thirteen years old. Since arriving in New York after attending the University of Miami in the late 1970's and early 1908's, he has performed and recorded with such jazz notables as Lou Donaldson, Dr. Lonnie Smith, Houston Person, Etta Jones, Lionel Hampton, Brother Jack McDuff, Warne Marsh, Lee Konitz, Joey Defrancesco, Tom Harrell, Irene Reid and Rashid Ali. Randy has toured the world playing live concerts in numerous countries including stints in Europe, Africa and Asia.

Randy Johnston - Live At The Smithsonian Jazz Cafe - DVD *Out Of Print*
On March 18, 2005 with his latest CD approaching the pinnacle of the jazz chart, Randy Johnston captures the energy of the moment in front of a packed house at the Smithsonian Jazz Cafe. Bassist Tom Pietrycha and drummer Tony Leone joined Randy on this exhilarating blend of originals and covers. Tunes include: "Up From The Skies, Green Curry, David's Theme, Fringe Benefits, The Nite Bird, Here's That Rainy Day, Impressions, Seems Like Times Are Changin', Secret Love, If Ever I Would Leave You, Billie's Bounce, Body and Soul".
(110 min)...............................................................................Price - $24.95

Randy Johnston & Jack Wilkins Play "St. Thomas"

Randy Johnston - Soul Jazz Guitar - Book and CD *Out Of Print*
Includes: "It Couldn't Happen To Me, Killer Jane, Medium Tempo Blues, Minor Blues, The Philadelphians, Polkadots, Rolling At The Summit, Slow Blues, Soul Air, Speak High, Tune Down, Down Time".
Notation and tab..................................................................Price - $19.95

Randy Johnston Jams With Lou Donaldson

Chord Melody's New DVD Digital Download Service
Now you can download over 4,000 DVDs instantly!

Guitarists who like Randy Johnston also like:
The Hank Mackie Solo Guitar Collection

The Huey Long Solo Guitar Collection

The Johnny Smith Solo Guitar Collection

Jazz Guitar Chords & Arpeggio Patterns - Stacy McKee - This unique book includes 300 jazz guitar chord formations and matching single note arpeggio patterns in a quick reference format that no one has ever done before! Cross indexing makes this manual extremely easy to use and regardless of what style of music you play, we know you will find this to be a valuable, "must have" addition to your library. Stacy McKee was the featured guitarist with "Les Brown and The Band Of Renown" and for a limited time only, we will include an exclusive copy of his book FREE with your first order!
==> Click here to see the Stacy McKee Chord Melody Solo Collection <==

Wikipedia article on Randy Johnston
Wikipedia article on soul jazz music

Please get in touch with us personally if you have any questions.
U.S. residents call Toll-Free 1-800-913-9477
Outside the U.S. call 1-843-838-2657

You can easily place your order Toll Free by calling 1-800-913-9477 now!
OR click on this link to use our Secure Order Form All orders are backed by
our "exclusive" 30-Day No-Risk Guarantee! See Our Guarantee!

Chord Melody Productions PO Box 569 Beaufort, SC 29901


1-800-913-9477 -Toll Free 843-838-2657 - Phone 843-838-7381 - Fax chordmelod@aol.com

.............................................Home Page.......................................Secure Order Form.........................................