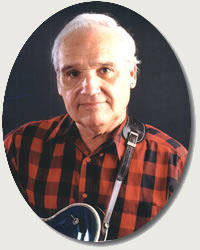 Tommy Flint
Tommy Flint is an outstanding guitarist who is known worldwide for his musical achievements. He is an internationally acclaimed author of guitar instructional books, CDs, and videos. Tommy and his band have accompanied many major artists in concert halls, recording studios, and package shows. Tommy has shared the stage with artists such as Chet Atkins, Cher, Ray Charles, Roger Miller, Liza Minnelli, Dolly Parton and Glen Campbell. He and his band performed as an opening act for the late Elvis Presley.

Tommy's resume includes performances at the Grand Ole Opry and Country Music Hall of Fame, A Tribute to Merle Travis at the Ozark Folk Center in Mountain View, Arkansas, the Chet Atkins Appreciation Society in Nashville and the Walnut Valley Festival in Winfield, Kansas.

Tommy has conducted clinics and workshops across the U. S. and Europe. He is well known for his work with the Music Educators National Conference, the

Merle Travis Guitar Festival at Northeastern State University at Tahlequah, Oklahoma, and other venues. He has participated in workshops with a number of nationally recognized guitarists including his cousin Merle Travis, Mel Bay, Thom Bresh, William Bay, John Knowles, Buster Jones, and Muriel Anderson.

Tommy has written 40 instructional books (with companion recordings). Many of his books are used in the nation's leading music schools. He also writes for Fingerstyle Guitar magazine. Tommy is heavily scheduled playing concerts, conducting workshops and clinics, writing, recording and personally instructing a limited number of exceptional students. His performances, clinics, videos, books tapes are an inspiration to guitarists and guitar music lovers the world over.

Tommy's honors include a Governor's Appreciation Certificate for his participation in Oklahoma Homecoming '90. He was commissioned a Kentucky Colonel by the Governor of the Bluegrass State. He was proud to be designated a Country Music Pioneer by the Grand Ole Opry and the Country Music Association. A street in Drakesboro, KY was recently named Tommy Flint Avenue.

Tommy has attended the Reunion of Country Music Artists by special invitation from the CMA. One reunion was highlighted when Tommy and legendary guitarist Mose Rager (Merle Travis' mentor) took the stage together. Through the early influences of Merle Travis, Mose Rager, and "Spider" Rich, Tommy developed an unmistakable "style of his own". Tommy Flint passed away in 2017.
Tommy Flint - The Chet Atkins Guitar Method - Book and Online Audio
Contains numerous picking studies, chord etudes, and great Atkins style guitar solos. Written by Chet Atkins and Tommy Flint this method book features transcriptions of some of Chet's finest recorded solos including: "Long, Long Ago, The Marine Hymn, Martha, Tiptoe, Our Boys Will Shine, The Caissons Go Rolling Along, The Blue Tail Fly, Bicycle Built For Two, Oh My Darling Clementine, My Mountain Home, The Wayfarin' Stranger, America The Beautiful, Old Folks At Home, Home On The Range, Red River Valley, Waltz in E Minor, March Majestic, Prelude in D Minor, Mist In The Valley, The Streets of Laredo, Smoky Mountain Lullaby, Drink To Me Only With My Eyes, Love Song, Tenting Tonight, Careless Love, Ode To Bob, Chopin's Prelude, Spanish Fandango, Just As I Am, John Henry, Me And Merle, Wimoweh, Liebestraum, Czardas".
Notation and tab.................................................................Price - $24.95
Chet Atkins Plays "The Streets Of Laredo"
Tommy Flint - The Merle Travis Guitar Style - Book and Online Audio
Written by Tommy Flint and Merle Travis. Tommy Flint carefully and systematically teaches the world-renowned fingerpicking style developed by the legendary guitarist Merle Travis. Selections include: "Farewell My Blue Bell, Bar BQ Rag, Bicycle Built for Two, Bugle Call Rag Country Shuffle, Cuddle-Up A Little Closer, Lovey Mine, Dance of The Golden Rod, Drakesboro, Coal Drag, Go Tell Aunt Rhody, Going Down the Road Feeling Bad, Good-bye My Bluebell, Got It, Green River Blues, Honeysuckle Sweet, I'm Thinking Tonight of My Blue Eyes, Walkin' in Beech Creek, Memphis Blues" and more!
Notation and tab.................................................................Price - $29.95
Click To Hear Audio Samples
Merle Travis Plays "Wildwood Flower"
Tommy Flint - Country Ballads For Fingerstyle Guitar - Book and CD
Songs include: "Texas Twilight, Silver Bell, Beautiful Dreamer, Footprints in the Snow, Red Wing, Tuck Me to Sleep In My Old Kentucky Home, Wind in the Maple, After All These Years, Appalachian Tears, Annie Laurie, Darling Nellie Gray".
Notation and tab.................................................................Price - $17.95
Click To Hear Audio Samples
Tommy Flint - Teach Yourself Fingerpicking Guitar - Book and Online Audio
These lessons teach all the basics that will get you started fingerpicking your guitar. You will learn basic chords, arpeggios, timing, reading chord charts and tab, left and right hand techniques, picking patterns, slurs, slides, barres, and accompaniment techniques. Use these new skills in tunes including: "Walking Blues, Skip to My Lou, Thumbing It, The Only One, Three in One, Getting Good, Getting Better, Lonesome Polecat, Hitting on All Four, The Second Time, In the Early Morning Mist, On the Appalachian Trail, The Bluestem Slopes, Stepping Out, Little Brown Jug, The Fiery Skipper, Luna's Tune, He's Got the Whole World in His Hands, Snap Crackle Crackle and Bang, Albert Lea Ann, Riding Out of Dodge, Lonely Guitar, Bury Me Beneath the Willow, House of the Rising Sun, Prelude, Blue River Train, Powder House Blues, Quaker Notes, Legend of the Carpathians, Carnival of Venice, Wildwood Flower, Walking Blues, Stomping on the Steppe, Satisfaction Guaranteed, Etude, Amazing Grace, The Ballad of Jesse James, Cockles and Mussels, Aura Lee, The Rolling Flint Hills, Once Upon a Time".
Notation and tab..................................................................Price - $14.95
Guitarists who like Tommy Flint also like:
The Chet Atkins Solo Guitar Collection
Jazz Guitar Chords & Arpeggio Patterns - Stacy McKee - This unique book includes 300 jazz guitar chord formations and matching single note arpeggio patterns in a quick reference format that no one has ever done before! Cross indexing makes this manual extremely easy to use and regardless of what style of music you play, we know you will find this to be a valuable, "must have" addition to your library. Stacy McKee was the featured guitarist with "Les Brown and The Band Of Renown" and for a limited time only, we will include an exclusive copy of his book FREE with your first order!
==> Click here to see the Stacy McKee Chord Melody Solo Collection <==
Wikipedia article on fingerstyle guitar
Wikipedia article on Chet Atkins
Wikipedia article on Merle Travis
Please get in touch with us personally if you have any questions.
Just call 1-843-838-2657 for help or to place your order.
You can easily place your order by calling 1-843-838-2657 now!
OR click on this link to use our Secure Order Form All orders are backed by
our "exclusive" 30-Day No-Risk Guarantee! See Our Guarantee!