Paul Pigat Guitar Tab Books, Instruction DVDs, Solos, Licks, Arrangements, Video Lessons
*FREE BOOK - "Jazz Guitar Chords & Arpeggio Patterns" by Stacy McKee (with 1st order)*
..................................................Chord Melody Guitar Music.......................................................
1-800-913-9477 -Toll Free 843-838-2657 - Phone 843-838-7381 - Fax chordmelod@aol.com
Acoustic Guitar Books/DVDs..........Classical Guitar Books/DVDs.............Lick Library Guitar DVDs
Beginner's Guitar Books/DVDs.......Country Guitar Books/DVDs..............Play Along Guitar Books/DVDs
Blues Guitar Books/DVDs................Flamenco Guitar Books/DVDs............Religious Guitar Books/DVDs
Brazilian Guitar Books/DVDs..........Jazz Guitar Course Books/DVDs........Robert Conti Guitar Books/DVDs
Celtic Guitar Books/DVDs................Jazz Guitar Books/DVDs (A-K)..........Rock Guitar Books/DVDs
Christian Guitar Books/DVDs..........Jazz Guitar Books/DVDs (L-Z)...........Spanish Guitar Books/DVDs
Secure Order Form
*Click Here For Featured DVDs Of The Week On Sale!!
==> Click Here To Search By Artist Name or Band Name <==
Need Help Choosing The Right Guitar Book or Video? Peabody Conservatory
trained guitarist Steven Herron is available to answer questions and make recommendations
that will help you become a better guitarist! Just call Toll-Free 1-800-913-9477 now!!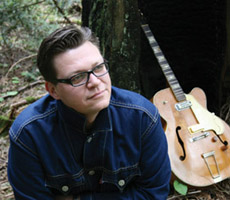 Paul Pigat
Paul Pigat started playing the guitar at 11 years of age and was gigging steadily in downtown Toronto by the time he was 12. Through a lifetime dedication to live performance, recording and study he has developed into a superb guitarist, vocalist, songwriter and instructor, with an acute fondness for vintage guitars and amps.

Pigat's style is deeply rooted in the playing of Les Paul, Merle Travis, Link Wray and T-Bone Walker, with a modern twist to create a style that is exhilarating in its intensity, yet at the same time fluid and precise. Paul's creative use of tone and dynamics is a hallmark of everything he plays and his sense of rhythm is both sophisticated and dead on. A versatile artist with projects ranging from delta blues to classical music, Pigat heads four diverse Vancouver bands.

The Paul Pigat Trio (jazz) is in its eighth year, while Paul continues to develop his Hard 8 Trio (acoustic guitar), Pigby (acoustic guitar/jazz duo), and his rocking hillbilly persona, Cousin Harley. Pigat has recorded and toured with the likes of Neko Case, Michael Kaeshammer, and Carolyn Mark and has shared the stage with Taj Mahal, Mae Moore, Lee Aaron, the Blind Boys of Alabama, Joshua Redman, Big Sandy and His Flyrite Boys, Aaron Neville, Jim Byrnes, Ndidi Onukwulu, Zubot & Dawson, and more.

Pigat's superb talent as a guitarist is matched by his vocal abilities; a warm baritone equally at home singing flat-out rockers and relaxed country swing. Paul's first solo acoustic album "Boxcar Campfire" will come out in the summer of 2009, showcasing his guitar and writing virtuosity with a collection of original songs and creative arrangements of a handful of covers. He will also release his next Cousin Harley offering before the end of the year.

Paul Pigat - Jazzin' Up Your Guitar - DVD *Out Of Print*
Jazzin' Up Your Guitar is a fun, accessible introduction to country swing and swing guitar for the intermediate to advanced guitarist. It's a great lesson for any player who wants to 'jazz up' their rockabilly, country or blues style guitar playing. In Jazzin' Up Your Guitar, Paul focuses on elements of swing chord rhythm & arpeggio techniques that will soon have you adding lots of new melodies and licks to your guitar playing. Topics covered in this (close to two hour) lesson include: Arpeggios and practice techniques for chords (6ths, Dominant 7ths, 9ths, etc) that will add new colors to your playing; An exploration of the diminished chord and how to apply it to your solos; The iim7 chord; The major and minor pentatonic scales; The blues, combined and chromatic scales; The mixolydian scale; Unusual guitar chord shapes and substitutions; The encircling riff; Double stops; Rhythm and building solos in 12 and 8 bar swing chord progressions; Borrowing from other players and instruments to build a solo; Playing and soloing over the 'rhythm' changes and much more!
(111 min) Printable Tab Booklet...........................................Price - $29.95

Paul Pigat - Rockabilly Electric Guitar - DVD *Out Of Print*
Let Paul Pigat (aka Cousin Harley) take you on an easily accessible lesson through the many techniques of Rockabilly guitar! This lesson is for the intermediate/ advanced player. Topics covered include: rockabilly intros, alternate picking, Travis picking rockabilly style, soloing for the left and right hands, country swing licks, James Burton styles, double stops and tritone licks, bends, diminished runs, gear set up, and much more!
(67 min) Printable Tab Booklet.............................................Price - $29.95

Paul Pigat - Travis Picking Hillbilly Fingerstyle Guitar - DVD *Out Of print*
Let Paul Pigat (aka Cousin Harley) take you on a fun, easily accessible lesson through the techniques of hillbilly fingerstyle - incorporating the styles of Merle Travis, Chet Atkins, Scotty Moore and Lenny Breau! This lesson is for the intermediate to advanced player. Paul has put together a great, articulate lesson for anyone interested in this style of playing that will surely be as popular as his first DVD "Rockabilly Guitar". In this DVD, Paul explains: guitar boogie patterns, fingerstyle muting techniques, lots of alternative chord voicings that will spice up your playing, fingerstyle turnaround patterns, exercises to increase right and left hand coordination, the Chet Atkins 3 finger roll pattern, bass lines leading into chords, pinching techniques, Paul's pedal and amp settings and much more! This is a great lesson for the blues, rockabilly, jazz and folk style guitar player.
(116 min) Printable Tab Booklet...........................................Price - $29.95

Chord Melody's New DVD Digital Download Service
Now you can download over 3,700 DVDs instantly!

Jazz Guitar Chords & Arpeggio Patterns - Stacy McKee - This unique book includes 300 jazz guitar chord formations and matching single note arpeggio patterns in a quick reference format that no one has ever done before! Cross indexing makes this manual extremely easy to use and regardless of what style of music you play, we know you will find this to be a valuable, "must have" addition to your library. Stacy McKee was the featured guitarist with "Les Brown and The Band Of Renown" and for a limited time only, we will include an exclusive copy of his book FREE with your first order!
==> Click here to see the Stacy McKee Chord Melody Solo Collection <==

Wikipedia article on fingerstyle guitar

Please get in touch with us personally if you have any questions.
U.S. residents call Toll-Free 1-800-913-9477
Outside the U.S. call 1-843-838-2657

You can easily place your order Toll Free by calling 1-800-913-9477 now!
OR click on this link to use our Secure Order Form All orders are backed by
our "exclusive" 30-Day No-Risk Guarantee! See Our Guarantee!

Chord Melody Productions PO Box 569 Beaufort, SC 29901


1-800-913-9477 -Toll Free 843-838-2657 - Phone 843-838-7381 - Fax chordmelod@aol.com

.............................................Home Page.......................................Secure Order Form.........................................