John Lawrence Guitar Tab Books, Instruction DVDs, Walking Bass Solos, Improvisation, Lessons
*FREE BOOK - "Jazz Guitar Chords & Arpeggio Patterns" by Stacy McKee (with 1st order)*
..................................................Chord Melody Guitar Music.......................................................
1-800-913-9477 -Toll Free 843-838-2657 - Phone 843-838-7381 - Fax chordmelod@aol.com
Acoustic Guitar Books/DVDs..........Classical Guitar Books/DVDs.............Lick Library Guitar DVDs
Beginner's Guitar Books/DVDs.......Country Guitar Books/DVDs..............Play Along Guitar Books/DVDs
Blues Guitar Books/DVDs................Flamenco Guitar Books/DVDs............Religious Guitar Books/DVDs
Brazilian Guitar Books/DVDs..........Jazz Guitar Course Books/DVDs........Robert Conti Guitar Books/DVDs
Celtic Guitar Books/DVDs................Jazz Guitar Books/DVDs (A-K)..........Rock Guitar Books/DVDs
Christian Guitar Books/DVDs..........Jazz Guitar Books/DVDs (L-Z)...........Spanish Guitar Books/DVDs
Secure Order Form
*Click Here For Featured DVDs Of The Week On Sale!!
==> Click Here To Search By Artist Name or Band Name <==
Need Help Choosing The Right Guitar Book or Video? Peabody Conservatory
trained guitarist Steven Herron is available to answer questions and make recommendations
that will help you become a better guitarist! Just call Toll-Free 1-800-913-9477 now!!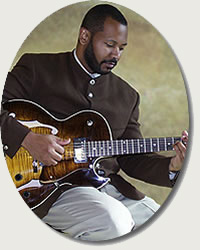 John Lawrence
John Lawrence, a lifelong resident of Ypsilanti is one of Michigan's most talented and respected guitarists. He credits his musical talents first and foremost to God, then to the late Dr. Morris J. Lawrence Jr. (no relation). Dr. Lawrence was an instructor and chair of the Music Department at Washtenaw Community College in Ann Arbor.

Under the tutelage of Dr. Lawrence, John was challenged and inspired to continuously improve his skills as a guitarist. Following in the footsteps of his mentor, John became an instructor at W.C.C. where he has taught for 27 years and is presently the Director of the Music Performance Department.

In less than two semesters John Lawrence developed over 25 new courses plus Certificate Programs in Guitar Studies, Piano Studies, and Music Production and Engineering. In the realm of performance, Mr. Lawrence served as musical director and lead guitarist for vocalist Carl Carlton, who was the opening act for such famed artists as Smokey Robinson, Chaka Khan, Lionel Richie and The Commodores, Rick James, Teena Marie, and Maze featuring Frankie Beverly.

In addition to touring throughout the United States and performing at festivals such as: the Boston Globe Jazz Festival, New Orleans Jazz and Heritage Festival, and the Montreaux-Detroit Jazz Festival, John Lawrence has performed in Haiti, Surinam, Germany, and the Montreaux Jazz Festival in Switzerland. Among his proudest moments was a performance at Carnegie Hall and a commendation from the legendary Kenny Burrell after John had informally sat in with him at the famed Keyboard Lounge in Detroit.

John has made television appearances on three nationally syndicated programs: Kelly & Company, PM Magazine, and Good Morning America. He has also performed with Atlantic Records recording artists, Straight Ahead, a Detroit-based female jazz group. His recordings include Merry Christmas From John Lawrence, The Supreme Dream, Old Smooth, Summer Nights, Winter Wonderland, All By Myself, and A Guitar Christmas.

John Lawrence - Walking Bass Solos For Guitar - Book and Online Audio *Out Of Print*
This book is designed to teach you how to play chords and bass lines simultaneously, give insight into how bass lines are constructed, develop the technique for playing chords and bass lines through specific exercises, and to teach specific bass solos in the form of walking blues, jazz swing and bossa nova.
Notation, tab and chord diagrams.....................................Price - $19.95

John Lawrence Plays "Affirmation"

Chord Melody's New DVD Digital Download Service
Now you can download over 3,700 DVDs instantly!

Guitarists who like John Lawrence also like:
The Hank Mackie Solo Guitar Collection

The Huey Long Solo Guitar Collection

The Johnny Smith Solo Guitar Collection

Jazz Guitar Chords & Arpeggio Patterns - Stacy McKee - This unique book includes 300 jazz guitar chord formations and matching single note arpeggio patterns in a quick reference format that no one has ever done before! Cross indexing makes this manual extremely easy to use and regardless of what style of music you play, we know you will find this to be a valuable, "must have" addition to your library. Stacy McKee was the featured guitarist with "Les Brown and The Band Of Renown" and for a limited time only, we will include an exclusive copy of his book FREE with your first order!
==> Click here to see the Stacy McKee Chord Melody Solo Collection <==

Wikipedia article on jazz guitar
Wikipedia article on jazz guitarists

Please get in touch with us personally if you have any questions.
U.S. residents call Toll-Free 1-800-913-9477
Outside the U.S. call 1-843-838-2657

You can easily place your order Toll Free by calling 1-800-913-9477 now!
OR click on this link to use our Secure Order Form All orders are backed by
our "exclusive" 30-Day No-Risk Guarantee! See Our Guarantee!

Chord Melody Productions PO Box 569 Beaufort, SC 29901


1-800-913-9477 -Toll Free 843-838-2657 - Phone 843-838-7381 - Fax chordmelod@aol.com

.............................................Home Page.......................................Secure Order Form.........................................