El McMeen Guitar Tab Books, Instruction DVDs, Solos, Arrangements, Video Lessons
*FREE BOOK - "Jazz Guitar Chords & Arpeggio Patterns" by Stacy McKee (with 1st order)*
..................................................Chord Melody Guitar Music.......................................................
1-800-913-9477 -Toll Free 843-838-2657 - Phone 843-838-7381 - Fax chordmelod@aol.com
Acoustic Guitar Books/DVDs..........Classical Guitar Books/DVDs.............Lick Library Guitar DVDs
Beginner's Guitar Books/DVDs.......Country Guitar Books/DVDs..............Play Along Guitar Books/DVDs
Blues Guitar Books/DVDs................Flamenco Guitar Books/DVDs............Religious Guitar Books/DVDs
Brazilian Guitar Books/DVDs..........Jazz Guitar Course Books/DVDs........Robert Conti Guitar Books/DVDs
Celtic Guitar Books/DVDs................Jazz Guitar Books/DVDs (A-K)..........Rock Guitar Books/DVDs
Christian Guitar Books/DVDs..........Jazz Guitar Books/DVDs (L-Z)...........Spanish Guitar Books/DVDs
Secure Order Form
*Click Here For Featured DVDs Of The Week On Sale!!
==> Click Here To Search By Artist Name or Band Name <==
Need Help Choosing The Right Guitar Book or Video? Peabody Conservatory
trained guitarist Steven Herron is available to answer questions and make recommendations
that will help you become a better guitarist! Just call Toll-Free 1-800-913-9477 now!!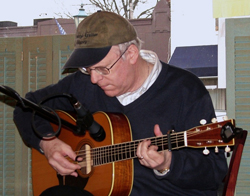 El McMeen
El McMeen began playing the acoustic guitar while attending Harvard in the mid1960's. At the time he took up guitar, he was an accomplished clarinet player and singer and had studied piano. At first, McMeen didn't approach the guitar primarily as a solo instrument, but used it as accompaniment for his singing.

Upon reapplying himself in the early 1980's to the instrument, he encountered what he saw as an incredible breadth of music that one could try to render on guitar. He found himself attracted to Irish and Scottish music, alternative tunings, and different approaches to rendering and arranging music.

After listening to the Dave Evans recording "Irish Jigs, Reels, Hornpipes, and Airs", McMeen became attracted to the richness of the CGDGAD tuning and found it accessible, evocative, versatile, and extremely stimulating to his own creativity on the guitar. After two decades of arranging pieces in that tuning, El has become the leading student of the tuning and he has written extensively on it including collaborating on the ground-breaking book The Complete Celtic Fingerstyle Guitar Book, co-written with Stefan Grossman and Duck Baker.

El's music is characterized by lyrical beauty and a sensitivity to melodic phrases enhanced with tasteful arpeggios, cross-picking, and walking bass lines, and his uptempo pieces evidence energy and pulse. His artistry has been praised by numerous publications, including Acoustic Guitar Magazine, Fingerstyle Guitar Magazine and Guitar Player Magazine. El's music has been hailed by critics as "stirring ... unbridled acoustic beauty" and "drop-dead gorgeous" (Guitar Player Magazine) and as a "treasure" (Dirty Linen Magazine).

El McMeen - Christmas Carols & Songs For Fingerstyle Guitar - DVD
Using various open and alternate tunings, unusual chord voicings, counterpoint lines, alternating bass and arpeggio techniques, El McMeen explains his unique arrangements of Christmas favorites. Solo guitar arrangements include "Away In A Manger, Angels We Have Heard On High, Bring A Torch Jeannette Isabella, Jingle Bells, We Three Kings, A Soaling, and We Wish You a Merry Christmas".
(70 min) Printable Tab Booklet...........................................Price - $29.95

El McMeen Plays "Jingle Bells"

El McMeen - Irish Guitar Encores - DVD
Presents El McMeen's unique approach to arranging Celtic melodies in the CGDGAD tuning. Ed explains this tuning and shows how to use harp-like arpeggios, counterpoint bass lines, melodic picking and alternating bass techniques for playing Irish airs and songs. Songs include "The South Wind, The Castle of Dromore, Danny Boy, Carolan's Receipt, Eleanor Plunkett, and Lament for Owen Roe O'Neill".
(82 min) Printable Tab Booklet...........................................Price - $29.95

El McMeen Plays "The Castle Of Dromore"

El McMeen - Sacred Music For Fingerstyle Guitar - DVD
In this DVD lesson, El McMeen demonstrates the use of various techniques including harp style arpeggios and alternating bass as well as unique open tunings that add exciting new harmonic sounds to these arrangements: "In Christ There Is No East Or West, Be Thou My Vision, Not Alone For Mighty Empire, In The Bleak Mid-Winter, Amazing Grace, This Is My Father's World, Silent Night".
(88 min) Printable Tab Booklet...........................................Price - $29.95

El McMeen - Guitar Artistry Of El McMeen - DVD
In this DVD, El shares his insights on music and guitar playing, along with his evocative and distinctive guitar style. His music ranges from Celtic songs and dance tunes, through alternating-bass Americana, sacred music, pop tunes and his original compositions. Titles: Medley: The Fair Flower of Northumberland*/Casadh*, Medley: Believe Me, If All Those Endearing Young Charms*/ Ned of the Hill*, Medley: Morgan Magan*/Carolan's Receipt*, Medley: October Winds*/My Mary of the Curling Hair*, Medley: Lament for Owen Roe O'Neill*/The Rights of Man*/The Kid on the Mountain*, Jock O'Hazeldean*, Hector the Hero*, Medley: Will the Circle Be Unbroken*/Joshua Fit the Battle of Jericho*, Holy Manna*, Medley: Fairest Lord Jesus*/Give Me Jesus*, Just As I Am*, Medley: Be Thou My Vision*/Amazing Grace*, Hyfrydol*, Le Mans*, Song for Sheila*, Perfidia, My Girl, Still the One, Medley: Working My Way Back to You/There Is a Rose in Spanish Harlem, Drifting Too Far from the Shore. PDF files with the tab for those tunes marked with a star (*) are included on the DVD!
(90 min).................................................................................Price - $24.95

Chord Melody's New DVD Digital Download Service
Now you can download over 3,700 DVDs instantly!

Guitarists who like El McMeen also like:
The Chet Atkins Solo Guitar Collection

Jazz Guitar Chords & Arpeggio Patterns - Stacy McKee - This unique book includes 300 jazz guitar chord formations and matching single note arpeggio patterns in a quick reference format that no one has ever done before! Cross indexing makes this manual extremely easy to use and regardless of what style of music you play, we know you will find this to be a valuable, "must have" addition to your library. Stacy McKee was the featured guitarist with "Les Brown and The Band Of Renown" and for a limited time only, we will include an exclusive copy of his book FREE with your first order!
==> Click here to see the Stacy McKee Chord Melody Solo Collection <==

Wikipedia article on El McMeen
Wikipedia article on fingerstyle guitar

Please get in touch with us personally if you have any questions.
U.S. residents call Toll-Free 1-800-913-9477
Outside the U.S. call 1-843-838-2657

You can easily place your order Toll Free by calling 1-800-913-9477 now!
OR click on this link to use our Secure Order Form All orders are backed by
our "exclusive" 30-Day No-Risk Guarantee!

See Our Guarantee!

Chord Melody Productions PO Box 569 Beaufort, SC 29901


1-800-913-9477 -Toll Free 843-838-2657 - Phone 843-838-7381 - Fax chordmelod@aol.com

.............................................Home Page.......................................Secure Order Form.........................................