Manolo Franco Guitar Tab Books, Instruction DVDs, Solos, Arrangements, Video Lessons
*FREE BOOK - "Jazz Guitar Chords & Arpeggio Patterns" by Stacy McKee (with 1st order)*
..................................................Chord Melody Guitar Music.......................................................
1-800-913-9477 -Toll Free 843-838-2657 - Phone 843-838-7381 - Fax chordmelod@aol.com
Acoustic Guitar Books/DVDs..........Classical Guitar Books/DVDs.............Lick Library Guitar DVDs
Beginner's Guitar Books/DVDs.......Country Guitar Books/DVDs..............Play Along Guitar Books/DVDs
Blues Guitar Books/DVDs................Flamenco Guitar Books/DVDs............Religious Guitar Books/DVDs
Brazilian Guitar Books/DVDs..........Jazz Guitar Course Books/DVDs........Robert Conti Guitar Books/DVDs
Celtic Guitar Books/DVDs................Jazz Guitar Books/DVDs (A-K)..........Rock Guitar Books/DVDs
Christian Guitar Books/DVDs..........Jazz Guitar Books/DVDs (L-Z)...........Spanish Guitar Books/DVDs
Secure Order Form
*Click Here For Featured DVDs Of The Week On Sale!!
==> Click Here To Search By Artist Name or Band Name <==
Need Help Choosing The Right Guitar Book or Video? Peabody Conservatory
trained guitarist Steven Herron is available to answer questions and make recommendations
that will help you become a better guitarist! Just call Toll-Free 1-800-913-9477 now!!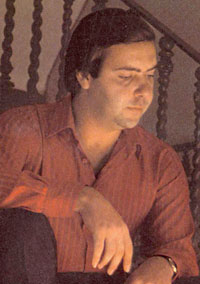 Manolo Franco
Manolo Franco Baron was born in Seville in 1960. He studied under his uncle Manolo Baron and Antonio de Osuna, who gave him his first lessons at the age of 12. He continued his training in the Matilde Coral school and debuted at the age of 15 in the Festivals of Spain.

Manolo has participated in several international festivals as a concert guitarist, such as those held in Cordova, Stockholm, Istanbul, Frieberg and Tokyo, and in the Reencuentros Internacionales de Guitarra in Tarbes, France, the Flamenco Art Biennial in Seville and the Madrid Flamenco Summit.

His discography features his solo album entitled Aljibe and innumerable recordings accompanying various flamenco singers - Carmen Linares, Jose Merce, Calixto Sanchez, Naranjito de Triana and others - and other musical styles related to flamenco. He has played for theatrical performances such as Stars of the Biennial, Cantando la Pena, Mediterraneo, Lances del Arenal, Compadres and others.

Manolo currently teaches at the Rafael Orozco Conservatory of Music in Cordova, a pioneering school in this specialty. As part of his teaching work he has taught courses in guitar festivals in Cordova and Tarbes, the Seville Biennial and the Cristina Heren Foundation of Seville. His artistic work has been recognized with numerous awards, such as Seville Radio's concert guitar award, the prize for the best accompanist in the Seville Flamenco Art Biennial in 2002 and again in 2004, and the Jerez National Flamencology Award in 2003.

Manolo Franco came into his own at the 3rd Seville Flamenco Art Biennial in 1984. He was chosen unanimously from among a number of top professional participants to receive the first Giraldillo Award for Flamenco Guitar Playing, a prize granted by a prestigious panel including, among others, Paco de Lucia, Manolo Sanlucar, Serranito, Juan Habichuela, Mario Escudero and Felix Grande.

Manolo Franco - Aljibe - Book and CD *Out Of Print*
Aljibe heralded all that Manolo Franco would bring to his musical artistic life: an extraordinary sound - round and truly flamenco - and an emphatic, clear, clean and polished technique! Whether Solea, Bulerias, Alegrias or any other style, he was already a phenomenon of musicality and creativity. This album was all it took to rank him among the most important composers of flamenco guitar music. These pieces - true documents for any flamenco guitar player - are unknown to later generations because that recording was not issued again and the originals were waiting to be awakened to take their place again among the splendors of flamenco. This was an absence of a transcendental chapter of flamenco guitar since the compositions in this album, true masterpieces, until now were available only in an old recording made by the Spanish national television network. The appearance of these transcriptions is worth a lively round of applause because it is a rescue of something that belongs to all of us. The virtuosity and sensitivity of the interpretations are a gift, note by note - yours to enjoy and admire!
Notation and tab..................................................................Price - $49.95

Manolo Franco Plays "Alegrias"

Manolo Franco - Guitarra Flamenca: Guajiras - DVD and CD *Out Of Print*
After listening to the performance of the entire palo, it is easy to access the falseta exercises (the falseta is a variation, or musical phrase interspersed between successions of chords) that break up the piece into smaller sections. At all times, the exercises are accompanied by a metronome that marks the meter. This method makes it possible to follow the actions of both the right hand and the left hand during the execution of the falsetas. Students are also provided with technique exercises that are necessary to acquire dexterity. They include picados, rasgueados, tremolos, arpeggios and alzapuas. At the start of each exercise, there are instructions concerning the correct body position and the way to practice the exercises. The CD contains the concert guitar version and the vocal accompaniment (with percussion). In the subsequent tracks, the basic rhythm of the palo can be heard, with the guitar and percussion featured at slow speed, medium speed and fast speed. Afterwards, the basic rhythm returns accompanied only by the percussion - without guitar, which is also featured in 3 different speeds.
(55 min) Booklet included...................................................Price - $39.95

Manolo Franco Plays "Guajiras"

Chord Melody's New DVD Digital Download Service
Now you can download over 3,700 DVDs instantly!

Jazz Guitar Chords & Arpeggio Patterns - Stacy McKee - This unique book includes 300 jazz guitar chord formations and matching single note arpeggio patterns in a quick reference format that no one has ever done before! Cross indexing makes this manual extremely easy to use and regardless of what style of music you play, we know you will find this to be a valuable, "must have" addition to your library. Stacy McKee was the featured guitarist with "Les Brown and The Band Of Renown" and for a limited time only, we will include an exclusive copy of his book FREE with your first order!
==> Click here to see the Stacy McKee Chord Melody Solo Collection <==

Wikipedia article on flamenco guitar
Wikipedia article on flamenco music

Please get in touch with us personally if you have any questions.
U.S. residents call Toll-Free 1-800-913-9477
Outside the U.S. call 1-843-838-2657

You can easily place your order Toll Free by calling 1-800-913-9477 now!
OR click on this link to use our Secure Order Form All orders are backed by
our "exclusive" 30-Day No-Risk Guarantee! See Our Guarantee!

Chord Melody Productions PO Box 569 Beaufort, SC 29901


1-800-913-9477 -Toll Free 843-838-2657 - Phone 843-838-7381 - Fax chordmelod@aol.com

.............................................Home Page.......................................Secure Order Form.........................................