Oscar Herrero Flamenco Guitar Tab Books, Instruction DVDs, Solos, Video Lessons
*FREE BOOK - "Jazz Guitar Chords & Arpeggio Patterns" by Stacy McKee (with 1st order)*
..................................................Chord Melody Guitar Music.......................................................
1-800-913-9477 -Toll Free 843-838-2657 - Phone 843-838-7381 - Fax chordmelod@aol.com
Acoustic Guitar Books/DVDs..........Classical Guitar Books/DVDs.............Lick Library Guitar DVDs
Beginner's Guitar Books/DVDs.......Country Guitar Books/DVDs..............Play Along Guitar Books/DVDs
Blues Guitar Books/DVDs................Flamenco Guitar Books/DVDs............Religious Guitar Books/DVDs
Brazilian Guitar Books/DVDs..........Jazz Guitar Course Books/DVDs........Robert Conti Guitar Books/DVDs
Celtic Guitar Books/DVDs................Jazz Guitar Books/DVDs (A-K)..........Rock Guitar Books/DVDs
Christian Guitar Books/DVDs..........Jazz Guitar Books/DVDs (L-Z)...........Spanish Guitar Books/DVDs
Secure Order Form
*Click Here For Featured DVDs Of The Week On Sale!!
==> Click Here To Search By Artist Name or Band Name <==
Need Help Choosing The Right Guitar Book or Video? Peabody Conservatory
trained guitarist Steven Herron is available to answer questions and make recommendations
that will help you become a better guitarist! Just call Toll-Free 1-800-913-9477 now!!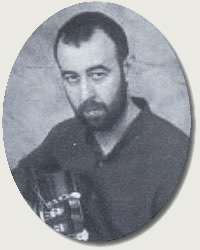 Oscar Herrero
Oscar Herrero has always been associated with the guitar. His interest in the Flamenco world placed him on important stages at a very early age, being a solo musician and a composer. He played in prestigious venues all over the world, such as the New York Metropolitan, Ottawa National Gallery, and the Teatro Real in Madrid, where he met some of the most important names in the contemporary musical scene.

Oscar has been awarded the most prestigious Spanish Flamenco awards: First National prize of Flamenco Guitar in Jerez de la Frontera and First prize "Borodon Minero" in Las Minas festival.

Discography: "Torrente" (with the collaboration of Carmen Linares, Serranito, Sara Baras, and J. Baron), "Por Falla" (with Carlos Oramas's classical guitar), and "Hechizo" (with Tino di Geraldo, Xose Manuel Budino, Guillermo McGill, and others).

Oscar Herrero - Flamenco Guitar Step By Step - Vol 1 - DVD
This series of instructional DVDs explains each technique methodically and thoroughly. In this volume, Oscar Herrero offers insights on sitting, correct hand positions and reveals the secrets of thumb/index technique - the "picado" the "picado falseta", and "the golpe". He demonstrates various "rasgueados" executed with and without the thumb and presents the "Tango" and "Soleas" rhythms.
(68 min) Tab Booklet Included..................................................Price - $39.95

Oscar Herrero Plays "Bulerias"

Oscar Herrero - Flamenco Guitar Step By Step - Vol 2 - DVD
After playing a "Tarantas" with "palmeros" (rhythmic hand-clapping), Oscar Herrero explains the advanced thumb techniques called "alzapua", the 5-note flamenco tremolo as well as traditional and modern flamenco harmony. He then performs two concert themes - a "Bulerias" and an "Alegrias" which include all of the techniques introduced in volumes 1 and 2.
(60 min) Tab Booklet Included..................................................Price - $39.95

Oscar Herrero Plays "Alegrias"

Oscar Herrero - Flamenco Guitar Step By Step - Vol 3 - DVD
In this third volume, after playing a "Sevillanas", Oscar Herrero shows exercises to develop excellent right and left hand techniques. These techniques are accompanied by extensions, legatos, chord changes, little finger exercises and arpeggios. This volume serves as a summary of all 3 volumes in the series.
(90 min) Tab Booklet Included..................................................Price - $39.95

Oscar Herrero Plays "Malaguena y Verdial"

Chord Melody's New DVD Digital Download Service
Now you can download over 4,000 DVDs instantly!

Jazz Guitar Chords & Arpeggio Patterns - Stacy McKee - This unique book includes 300 jazz guitar chord formations and matching single note arpeggio patterns in a quick reference format that no one has ever done before! Cross indexing makes this manual extremely easy to use and regardless of what style of music you play, we know you will find this to be a valuable, "must have" addition to your library. Stacy McKee was the featured guitarist with "Les Brown and The Band Of Renown" and for a limited time only, we will include an exclusive copy of his book FREE with your first order!
==> Click here to see the Stacy McKee Chord Melody Solo Collection <==

Wikipedia article on Oscar Herrero
Wikipedia article on Flamenco

Please get in touch with us personally if you have any questions.
U.S. residents call Toll-Free 1-800-913-9477
Outside the U.S. call 1-843-838-2657

You can easily place your order Toll Free by calling 1-800-913-9477 now!
OR click on this link to use our Secure Order Form All orders are backed by
our "exclusive" 30-Day No-Risk Guarantee! See Our Guarantee!

Chord Melody Productions PO Box 569 Beaufort, SC 29901


1-800-913-9477 -Toll Free 843-838-2657 - Phone 843-838-7381 - Fax chordmelod@aol.com

.............................................Home Page.......................................Secure Order Form.........................................