Mark Stuart Guitar Tab Books, Instruction DVDs, Solos, Arrangements, Video Lessons
*FREE BOOK - "Jazz Guitar Chords & Arpeggio Patterns" by Stacy McKee (with 1st order)*
..................................................Chord Melody Guitar Music.......................................................
1-800-913-9477 -Toll Free 843-838-2657 - Phone 843-838-7381 - Fax chordmelod@aol.com
Acoustic Guitar Books/DVDs..........Classical Guitar Books/DVDs.............Lick Library Guitar DVDs
Beginner's Guitar Books/DVDs.......Country Guitar Books/DVDs..............Play Along Guitar Books/DVDs
Blues Guitar Books/DVDs................Flamenco Guitar Books/DVDs............Religious Guitar Books/DVDs
Brazilian Guitar Books/DVDs..........Jazz Guitar Course Books/DVDs........Robert Conti Guitar Books/DVDs
Celtic Guitar Books/DVDs................Jazz Guitar Books/DVDs (A-K)..........Rock Guitar Books/DVDs
Christian Guitar Books/DVDs..........Jazz Guitar Books/DVDs (L-Z)...........Spanish Guitar Books/DVDs
Secure Order Form
*Click Here For Featured DVDs Of The Week On Sale!!
==> Click Here To Search By Artist Name or Band Name <==
Need Help Choosing The Right Guitar Book or Video? Peabody Conservatory
trained guitarist Steven Herron is available to answer questions and make recommendations
that will help you become a better guitarist! Just call Toll-Free 1-800-913-9477 now!!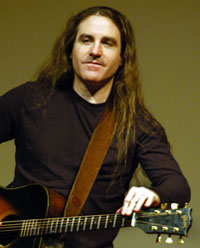 Mark Stuart
Mark Stuart is a veteran artist of the Folk/Americana music circuit. As a songwriter, vocalist and multi instrumentalist he has toured extensively all over the USA, Canada and Europe. Few genres of Americana are left out of his performances (he touches upon blues, rock, folk, country and more).

Much of his time in the last decade has been devoted to a husband-wife duo, "Stacey Earle and Mark Stuart". In past years, Stuart lent his musical hands to other artists in the studio and on tour. Many of these fellow performers (Steve Forbert, Freddy Fender, Steve Earle, Jonnell Mosser) are well-known on the same "roots music" circuit.

Celebrated festivals (Cambridge Folk Festival, Kate Wolf Festival, Kerrville, Merlefest, etc.) and radio shows (Whad'Ya Know?, Woodsongs, Mountain Stage, etc.) have been host to Mark's performances and he has surfaced as an instructor at many songwriting schools and guitar clinics.

Mark Stuart - Americana Acoustic Guitar Styles - DVD *Out Of Print*
Americana Acoustic Guitar Styles is a great lesson for the guitarist who wants to spice up his/her playing with some new idea on backing themselves or other singers. Mark Stuart is master at this style of playing and is known internationally as one of the great sidemen. He's a good teacher, too! In this lesson, Mark focuses on various techniques and thoughts that will help you zone in on what it takes to become a tasteful side person, or to back yourself on your own songs. Topics Mark touches on include:. Mark's Hybrid Style (playing with flat pick and fingers), Playing Octaves on the 5th and 2nd Strings, Playing Octaves on the 1st and 4th strings (Key of G), 1st and 3rd String Octaves, Double Stops in G. Using Slurs, Mark's pet lick, Country Song Introductions, Double Stops 2nd and 4th Strings, Extensive Harmonics in may keys and positions, Western Swing A6 to D9 Lick, Honky Tonk Lick in Gaka Roy Nichols, Travis Picking Hybrid Style Explanation, Mark's Guitars, Capo Tricks, Pick Ups and much more!
86 min)..................................................................................Price - $29.95

Mark Stuart Plays "Hey Hey"

Chord Melody's New DVD Digital Download Service
Now you can download over 3,700 DVDs instantly!

Jazz Guitar Chords & Arpeggio Patterns - Stacy McKee - This unique book includes 300 jazz guitar chord formations and matching single note arpeggio patterns in a quick reference format that no one has ever done before! Cross indexing makes this manual extremely easy to use and regardless of what style of music you play, we know you will find this to be a valuable, "must have" addition to your library. Stacy McKee was the featured guitarist with "Les Brown and The Band Of Renown" and for a limited time only, we will include an exclusive copy of his book FREE with your first order!
==> Click here to see the Stacy McKee Chord Melody Solo Collection <==

Wikipedia article on acoustic guitar tabs
Wikipedia article on fingerstyle guitar

Please get in touch with us personally if you have any questions.
U.S. residents call Toll-Free 1-800-913-9477
Outside the U.S. call 1-843-838-2657

You can easily place your order Toll Free by calling 1-800-913-9477 now!
OR click on this link to use our Secure Order Form All orders are backed by
our "exclusive" 30-Day No-Risk Guarantee! See Our Guarantee!

Chord Melody Productions PO Box 569 Beaufort, SC 29901


1-800-913-9477 -Toll Free 843-838-2657 - Phone 843-838-7381 - Fax chordmelod@aol.com

.............................................Home Page.......................................Secure Order Form.........................................