Glenn Weiser Guitar Tab Books, Instruction DVDs, Solos, Arrangements, Video Lessons
*FREE BOOK - "Jazz Guitar Chords & Arpeggio Patterns" by Stacy McKee (with 1st order)*
..................................................Chord Melody Guitar Music.......................................................
1-800-913-9477 -Toll Free 843-838-2657 - Phone 843-838-7381 - Fax chordmelod@aol.com
Acoustic Guitar Books/DVDs..........Classical Guitar Books/DVDs.............Lick Library Guitar DVDs
Beginner's Guitar Books/DVDs.......Country Guitar Books/DVDs..............Play Along Guitar Books/DVDs
Blues Guitar Books/DVDs................Flamenco Guitar Books/DVDs............Religious Guitar Books/DVDs
Brazilian Guitar Books/DVDs..........Jazz Guitar Course Books/DVDs........Robert Conti Guitar Books/DVDs
Celtic Guitar Books/DVDs................Jazz Guitar Books/DVDs (A-K)..........Rock Guitar Books/DVDs
Christian Guitar Books/DVDs..........Jazz Guitar Books/DVDs (L-Z)...........Spanish Guitar Books/DVDs
Secure Order Form
*Click Here For Featured DVDs Of The Week On Sale!!
==> Click Here To Search By Artist Name or Band Name <==
Need Help Choosing The Right Guitar Book or Video? Peabody Conservatory
trained guitarist Steven Herron is available to answer questions and make recommendations
that will help you become a better guitarist! Just call Toll-Free 1-800-913-9477 now!!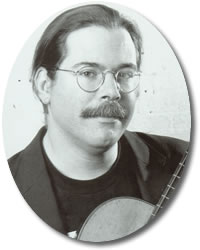 Glenn Weiser
Glenn Weiser was born in 1952 in Ridgewood, New Jersey and began playing guitar at thirteen. While in high school, he studied classical guitar with Paul Battat, who was a student of Andres Segovia's pupil Rodrigo Rierez. Later, he studied steel string fingerpicking with ragtime guitarist Eric Schoenberg and also took up harmonica, banjo and mandolin.

Glenn is the author of several books for guitar and harmonica, his most recent being Celtic Harp Music of Carolan and Others for Solo Guitar. He has also written for the magazines Acoustic Guitar, Sing Out!, and Acoustic Musician. Glenn currently teaches guitar in the Albany, New York area and performs in the Northeast.

Glenn Weiser - Folk Songs For Solo Guitar - Book and CD
36 Traditional Folk Songs of America and The British Isles. Fingerstyle solos include: "The Ash Grove, The Minstrel Boy, Red Haired Boy, Saint Anne's Reel, Swallowtail Reel, Turkey In The Straw, Gary Owen, Rose In The Heather, Drink To Me Only With Thine Eyes, Paddy On The Turnpike, Rosin The Bow, Oh Dem Golden Slippers, The Arkansas Traveler, The Sky Boat Song, The Flowers of Edinburgh, Miller's Reel, Over The Waterfall, The Boys of Bluehill, Devil's Dream, Redwing, Danny Boy, Mississippi Sawyer, Liberty, Ragtime Annie, McCleod's Reel, Sailor's Hornpipe, Soldier's Joy, The Year of Jubilo, Banish Misfortune, Fisher's Hornpipe, Haste To the Wedding, The Irish Washerwoman, The Rights of Man, Star of the County Down, My Love Is Like a Red, Red Rose, Scotland The Brave".
Notation and tab..................................................................Price - $19.95

Glenn Weiser Plays "Sweet Home Chicago"

Glenn Weiser - Celtic Guitar - Book and CD
Solo fingerstyle guitar arrangements include: Reels - "Drowsy Maggie, The Green Fields of America, The Maid Behind the Bar, Napoleon Crossing the Rhine, Paddy on the Railroad, Sleepy Maggie, Staten Island Hornpipe, Temperance Reel", Airs, Marches & Waltzes - "Bonnie Dundee, Jack O'Hazeldon, Katie Dwyer, Lord Lovat's Lament, O'Connell's Lamentation, The Southwind", Jigs - "Castle Drummond, The Gallowglass, The Hundred Pipers, Langstrom's Pony, Morrison's Jig, Paddy Whack, Smash the Windows, Top of Cork Road", Hornpipes - "Bryne's Hornpipe, Chief O'Neill's Favorite, The Cuckoo's Nest, Murphy's Hornpipe, Rickett's Hornpipe, The Tailor's Twist", Turlough O'Carolan - "Blind Mary, Sir Festus Burke, Carolan's Draught, Constantine Maguire, Charles O'Conor, Planxty Irwin", DADGAD - "Carrickfergus, Farewell to Whiskey, Garret Barry's Jig, The Harvest Home, Star of the County Down, The Traveler".
Notation and tab..................................................................Price - $20.95
Click To Hear Audio Samples Click To See Sample Pages

Glenn Weiser Plays "Jack O"Hazeldon"

Glenn Weiser - Christmas Carols For Solo Guitar - Book
Includes solo fingerstyle guitar arrangements of: "Angels from the Realms of Glory, Away in a Manger, Deck the Halls, The First Noel, God Rest Ye Merry Gentlemen, Good King Wenceslas, Hark The Herald Angels Sing, Hearken All What Holy Singing, The Holly and the Ivy, I Saw Three Ships, Joy to the World, Lo How a Rose Eer Blooming, O Christmas Tree, O Come All Ye Faithful, O Come, O Come, Emanuel, O Little Town of Bethlehem, Silent Night, The Twelve Days of Christmas, We Three Kings, We Wish You A Merry Christmas, What Child Is This?".
Notation and tab..................................................................Price - $10.95

Glenn Weiser Plays "Can't Buy Me Love"

Chord Melody's New DVD Digital Download Service
Now you can download over 3,700 DVDs instantly!

Jazz Guitar Chords & Arpeggio Patterns - Stacy McKee - This unique book includes 300 jazz guitar chord formations and matching single note arpeggio patterns in a quick reference format that no one has ever done before! Cross indexing makes this manual extremely easy to use and regardless of what style of music you play, we know you will find this to be a valuable, "must have" addition to your library. Stacy McKee was the featured guitarist with "Les Brown and The Band Of Renown" and for a limited time only, we will include an exclusive copy of his book FREE with your first order!
==> Click here to see the Stacy McKee Chord Melody Solo Collection <==

Wikipedia article on folk guitar
Wikipedia article on Celtic music

Please get in touch with us personally if you have any questions.
U.S. residents call Toll-Free 1-800-913-9477
Outside the U.S. call 1-843-838-2657

You can easily place your order Toll Free by calling 1-800-913-9477 now!
OR click on this link to use our Secure Order Form All orders are backed by
our "exclusive" 30-Day No-Risk Guarantee! See Our Guarantee!

Chord Melody Productions PO Box 569 Beaufort, SC 29901


1-800-913-9477 -Toll Free 843-838-2657 - Phone 843-838-7381 - Fax chordmelod@aol.com

.............................................Home Page.......................................Secure Order Form.........................................