Beppe Gambetta Guitar Tab Books, Instruction DVDs, Solos, Arrangements, Video Lessons
*FREE BOOK - "Jazz Guitar Chords & Arpeggio Patterns" by Stacy McKee (with 1st order)*
..................................................Chord Melody Guitar Music.......................................................
1-800-913-9477 -Toll Free 843-838-2657 - Phone 843-838-7381 - Fax chordmelod@aol.com
Acoustic Guitar Books/DVDs..........Classical Guitar Books/DVDs.............Lick Library Guitar DVDs
Beginner's Guitar Books/DVDs.......Country Guitar Books/DVDs..............Play Along Guitar Books/DVDs
Blues Guitar Books/DVDs................Flamenco Guitar Books/DVDs............Religious Guitar Books/DVDs
Brazilian Guitar Books/DVDs..........Jazz Guitar Course Books/DVDs........Robert Conti Guitar Books/DVDs
Celtic Guitar Books/DVDs................Jazz Guitar Books/DVDs (A-K)..........Rock Guitar Books/DVDs
Christian Guitar Books/DVDs..........Jazz Guitar Books/DVDs (L-Z)...........Spanish Guitar Books/DVDs
Secure Order Form
*Click Here For Featured DVDs Of The Week On Sale!!
==> Click Here To Search By Artist Name or Band Name <==
Need Help Choosing The Right Guitar Book or Video? Peabody Conservatory
trained guitarist Steven Herron is available to answer questions and make recommendations
that will help you become a better guitarist! Just call Toll-Free 1-800-913-9477 now!!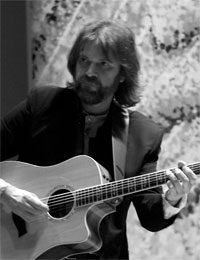 Beppe Gambetta
Beppe Gambetta is an Italian guitarist known internationally for his amazing technical fluency. He specializes in flatpicking guitar styles and is well known in bluegrass and country music circles. Widely acknowledged as one of Europe's foremost guitarists, Beppe Gambetta is a true master innovator on the acoustic guitar.

Both solo and in collaboration with top flight musicians around the globe including stellar appearances at the Freight & Salvage in duo with David Grisman, Beppe has a style that's memorable both for its deeply emotive tone and for its technical brilliance.

Still based in his birthplace of Genova, Italy, Beppe approaches his music from a unique stance, as an Italian musician in love with both American roots music as well as the music of his native country. He seamlessly bridges the shores of the two continents, creating a musical fusion where American and Ligurian tradition, emigration songs and folk ballads, steel string guitars and vintage harp guitars not only co-exist but interact, weaving a deep dialog unaware of any rigid classification.

His CD, Rendez-vous, is a good example of Beppe's cross-pollinated style featuring duet tunes from sources as far-flung as singer-songwriter

Patty Larkin and newgrass masters Missy Raines and Jim Hurst. Beppe's reputation in the U.S. and Canada is reinforced by his work with some great heroes of the folk scene like Gene Parsons, Doc Watson, and Norman Blake, as well as participation in prestigious festivals like Merlefest in North Carolina and the Four Corners Festival in Colorado.

Beppe Gambetta - New Directions In Flatpicking - DVD
From bluegrass to European dance tunes, Beppe examines a variety of crosspicking rhythms as he teaches his unique renditions of "Soldier's Joy, Old Joe Clark, and Slow Creek". He also presents 3 dance pieces that provide challenges in tempo-building, playing power, accuracy, and speed. They are "Margaritin, Iride, and Moravian Journey". He teaches the use of triplets, movable chords, double-stops, and "floating arpeggios" throughout this lesson.
(90 min) Printable Tab Booklet...........................................Price - $29.95

Beppe Gambetta - Flatpicking Guitar Artistry - DVD
For years, Italian flatipicking guitar sensation Beppe Gambetta has been thrilling audiences throughout the US and Europe with his incredible, high energy pyrotechnics. On this DVD, Beppe plays nine virtuoso guitar solos including his special rendition of bluegrass favorites: East Virginia Blues, Snow Dear, Spanish Two-Step, and Country Boy Rock & Roll. This intimate performance video also features brilliant solo guitar performances of Beppe's own compositions: On the Road with Mama, Family Whistle, Tarantexas, and A Night In Frontenac. As a special bonus, Beppe and his partner in the Seranata Duo, award-winning mandolinist Carlo Aonzo, perform exquisite duet arrangements of Italian favorites, Giuseppina and Margaritin.
(32 min).................................................................................Price - $24.95

Beppe Gambetta Plays "On The Road With Mama"

Beppe Gambetta - Blu Di Genova - Book
This collection features 14 rousing Beppe Gambetta flatpicking guitar solos from his CD of the same title! Songs include: "Introduction, On The Road With Mama, Fandango Per La Bionda, Church Street Blues, Shenandoah Valley Breakdown, A Cimma, Sestrina, A Night In Frontenac, Nova Gelosia, Serenata, Tarantexas, Fuinde, Marcia Americana, Under The Double Eagle, Red Shoes".
Notation and tab..................................................................Price - $19.95

Beppe Gambetta Plays "Fandango Per La Bionda"

Beppe Gambetta - The Flatpicking Sourcebook - Book and Online Audio
This superb collection by Italian flatpicking guitar master Beppe Gambetta covers a huge range of topics including warm-ups, fundamental techniques, strumming and accompaniments, crosspicking, improvisation, open tunings, plus 75 exercises, licks, solo pieces, duets, and ensemble arrangements demonstrating the full range of the style! All of the material is displayed in standard notation and tablature and is demonstrated by the author on the accompanying audio files, available for instant online access via the included download card in the book.
Notation and tab..................................................................Price - $19.95

Beppe Gambetta Plays "Dixie Breakdown"

Beppe Gambetta - Beppe Gambetta & Friends Live In Genova - DVD
Features Tony McManus, Don Ross, Dan Crary, Gene Parsons, Patty Larkin, Martino Coppo, Traversata Show. Performances include: "L'orient Est Grand, O'Carolans, Quarrel with the Landlady, Long Hourney Home, Fuinde, Un Canadien Errant, Risky Bizz (medley - The Easy Club Reel, Sally Goodin, Last Steam Engine Train, L'Iride), Creuza de Ma, Blue, Why You Been Gone So Long, On The Road With Mama, East Virginia Blues, Church Street Blues, Marcia Americana - Under the Double Eagle, L'iride, Nova Gelosia - Serenata, A Cimma, You Ain't Going Nowhere, Fandango per la Bionda". Features language options (Italian or English). Recorded live at Teatro della Corte - Genova.
(100 min)...............................................................................Price - $24.95

Beppe Gambetta Plays "Fuinde"

Chord Melody's New DVD Digital Download Service
Now you can download over 3,700 DVDs instantly!

Jazz Guitar Chords & Arpeggio Patterns - Stacy McKee - This unique book includes 300 jazz guitar chord formations and matching single note arpeggio patterns in a quick reference format that no one has ever done before! Cross indexing makes this manual extremely easy to use and regardless of what style of music you play, we know you will find this to be a valuable, "must have" addition to your library. Stacy McKee was the featured guitarist with "Les Brown and The Band Of Renown" and for a limited time only, we will include an exclusive copy of his book FREE with your first order!
==> Click here to see the Stacy McKee Chord Melody Solo Collection <==

Wikipedia article on Beppe Gambetta
Wikipedia article on flatpicking guitar

Please get in touch with us personally if you have any questions.
U.S. residents call Toll-Free 1-800-913-9477
Outside the U.S. call 1-843-838-2657

You can easily place your order Toll Free by calling 1-800-913-9477 now!
OR click on this link to use our Secure Order Form All orders are backed by
our "exclusive" 30-Day No-Risk Guarantee! See Our Guarantee!

Chord Melody Productions PO Box 569 Beaufort, SC 29901


1-800-913-9477 -Toll Free 843-838-2657 - Phone 843-838-7381 - Fax chordmelod@aol.com

.............................................Home Page.......................................Secure Order Form.........................................