Chord Melody's New DVD Digital Download Service!
Now you can download over 4,000 DVDs instantly!

New Digital Download Service For Individual Guitar Tabs!
Now you can download guitar tab for individual songs instantly!

Our New Selection Of DVD Digital Downloads By True Fire!
Now you can download thousands of DVDs by True Fire instantly!

==> Click Here To Search By Artist Name or Band Name <==

Need Help Choosing The Right Guitar Book or Video? Peabody Conservatory
trained guitarist Steven Herron is available to answer questions and make recommendations
that will help you become a better guitarist! Just call 1-843-838-2657 now!!

Dear Guitarist,

This page features a chord melody solo of the classic standard "Moonlight in Vermont" arranged by jazz guitarist Stacy McKee. This arrangement is from the Lifeworks Collection by Stacy McKee and is written in block chord diagram form for easy learning. To view the entire collection of hundreds of chord melody solos by Stacy - Click Here

Stacy played "Moonlight In Vermont" using a pick although you could also play it fingerstyle using your right hand fingers instead. Here are some hints which will help out your pickstyle playing considerably. Hold your pick between your right hand thumb and the left side of your index finger tip, keeping your thumb perfectly straight so that it is tension free.

The pick should be held loosely enough that there is a little give and take when you strike a string. This way you won't feel like you're digging in or dragging across the string. The pick should strike each string perpendicularly or straight on, as opposed to striking the string at an angle. You will get a fuller sounding note this way. Also, only the tip part of the pick needs to strike the string. There is no need to dig your pick down between the strings. This creates too much resistance.

When you use a pick, your up and down picking motions come from your hand, wrist and forearm at the exact same time. They move as 1 unit in a rotary motion and your wrist stays perfectly straight. Keep your middle, ring, and little fingers loosely held back in the palm of your hand - don't give in to the temptation of resting your little finger on the pick guard or the face of your guitar. This will only serve to glue you into 1 position and will cut down on your mobility and freedom of motion.

Remember to keep your left hand thumb straight, pointing towards the ceiling and in the middle of the back of the neck. Resist the temptation to hang your thumb over the top of the guitar neck. Your left wrist should be slightly arched and directly underneath the guitar neck itself. Play on the tips of your fingers, close to the fingernails, being sure that the right side of the palm of your left hand is the same distance from the fretboard as the left side of the palm of your left hand.

This will balance and center your left hand so that all of your fingers have an equal and fair reach advantage. Never lift a left hand finger more than 1/2 inch away from the strings. This alone will improve your accuracy because now you have less chance of missing the next note, since you won't be traveling a great distance to find it.

If you are interested in seriously pursuing the fascinating art of chord melody solo playing and comping, I would recommend that you take a look at Steven Crowell's 4 part college level jazz guitar course located on the Jazz Guitar Music Course page of our website. Another excellent DVD series for chord melody solo playing and comping is by Robert Conti and is located on the Robert Conti Guitar Music page of our website.

Warm Regards,


Steven Herron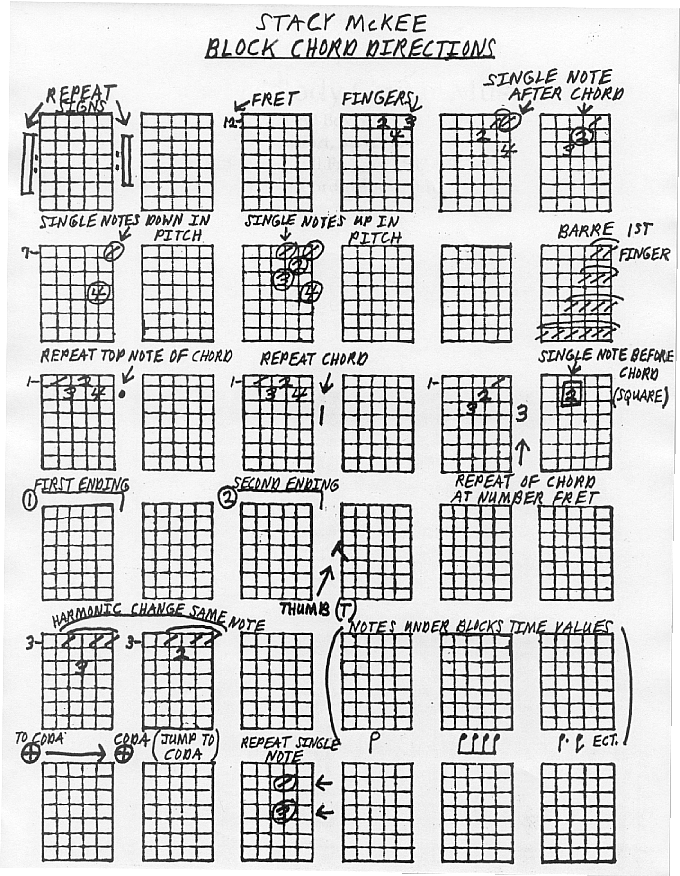 Stacy McKee Chord Melody Solo Of "Moonlight In Vermont"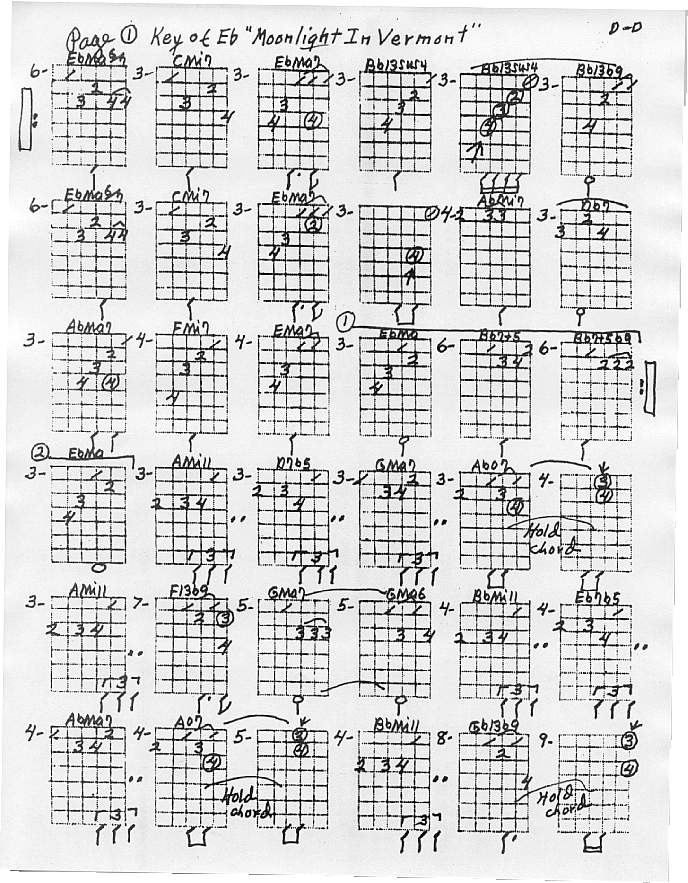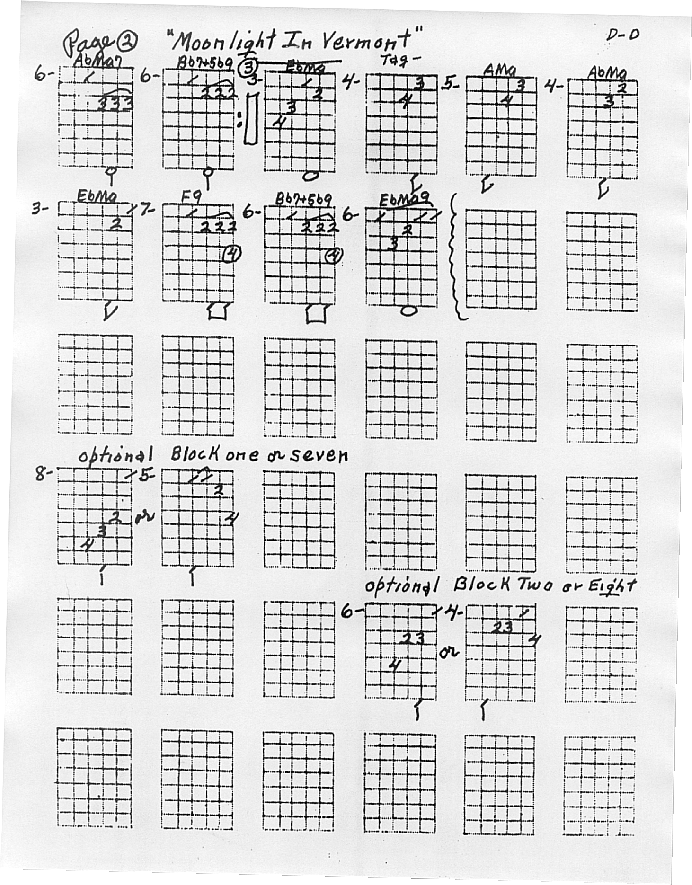 Stacy McKee Modern Rhythm Chords For "Moonlight In Vermont"