Bill Piburn Guitar Tab Books, Instruction DVDs, Solos, Arrangements, Video Lessons
*FREE BOOK - "Jazz Guitar Chords & Arpeggio Patterns" by Stacy McKee (with 1st order)*
..................................................Chord Melody Guitar Music.......................................................
1-800-913-9477 -Toll Free 843-838-2657 - Phone 843-838-7381 - Fax chordmelod@aol.com
Acoustic Guitar Books/DVDs..........Classical Guitar Books/DVDs.............Lick Library Guitar DVDs
Beginner's Guitar Books/DVDs.......Country Guitar Books/DVDs..............Play Along Guitar Books/DVDs
Blues Guitar Books/DVDs................Flamenco Guitar Books/DVDs............Religious Guitar Books/DVDs
Brazilian Guitar Books/DVDs..........Jazz Guitar Course Books/DVDs........Robert Conti Guitar Books/DVDs
Celtic Guitar Books/DVDs................Jazz Guitar Books/DVDs (A-K)..........Rock Guitar Books/DVDs
Christian Guitar Books/DVDs..........Jazz Guitar Books/DVDs (L-Z)...........Spanish Guitar Books/DVDs
Secure Order Form
*Click Here For Featured DVDs Of The Week On Sale!!
==> Click Here To Search By Artist Name or Band Name <==
Need Help Choosing The Right Guitar Book or Video? Peabody Conservatory
trained guitarist Steven Herron is available to answer questions and make recommendations
that will help you become a better guitarist! Just call Toll-Free 1-800-913-9477 now!!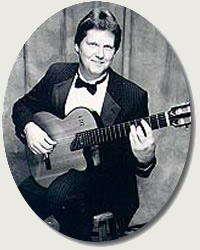 Bill Piburn
A native of Kansas City, Missouri, Bill Piburn now resides in Nashville, Tennessee where he leads a creative life as a guitarist, author, transcriber/arranger, music typesetter, and editor of Fingerstyle Review magazine.

Bill studied classical guitar with Douglas Niedt, and undertook additional jazz studies with pianist John Elliott. His solo guitar arrangements have been featured in Acoustic Guitar and Just Jazz Guitar magazines.

Bill''s performance and arranging skills have won praise from such celebrated guitarists as

Martin Taylor, Charlie Byrd, Jorge Morel, Chet Atkins and Jack Wilkins. He made his recording debut with the American Heritage Society in 2000 with a collection of Christmas tunes called Cuna de Navidad (Christmas Cradlesong).
"Bill Piburn is one of the best guitar players, arrangers, and teachers I have ever known."
-- Chet Atkins

"Bill Piburn's arrangements are creative and very musical. He draws on a wide range of musical styles and influences to keep the player and listener surprised and engaged. His music is personal, whimsical, and colorful with lots of interesting counterpoint and unique harmonies. I hope you enjoy his arrangements as much as I have!"
-Earl Klugh

Bill Piburn - Fingerstyle Guitar Standards - Book and Online Audio
Includes 15 classic jazz standards arranged for solo guitar: "Autumn Leaves, Cast Your Fate to The Wind, Cheek to Cheek, A Day in The Life of a Fool (Manha de Carnaval), Georgia on My Mind, It's Only a Paper Moon, Moon River, My Romance, The Nearness of You, Route 66, Sentimental Journey, Stompin' at the Savoy, This Can't Be Love, When Sunny Gets Blue, You Are My Sunshine".
Notation and tab....................................................................Price - $19.95

Bill Piburn's arrangement of "Autumn Leaves"

Bill Piburn - Fingerstyle Love Songs - Book and CD
Includes 15 classic love songs arranged for solo guitar: "Always On My Mind, And I Love You So, Beauty and The Beast, Dream a Little Dream of Me, How Deep Is Your Love, I Love How You Love Me, I Will, Just The Way You Are, My Cherie Amour, Only You (And You Alone), Our Day Will Come, This Guy's in Love With You, True Love, Unchained Melody, The Very Thought of You".
Notation and tab....................................................................Price - $19.95
Click To Hear Audio Samples

Bill Piburn's arrangement of "And I Love You So"

Bill Piburn - Plays Antonio Carlos Jobim - Book and CD
Includes 12 classic Antonio Carlos Jobim bossa nova songs arranged for solo guitar. The accompanying CD features Bill Piburn performing each song. Songs include: "Água De Beber, Chega De Saudade, Desafinado, The Girl From Ipanema, How Insensitive, Meditation, Once I Loved, Corcovado (Quiet Nights of Quiet Stars), Song of The Jet (Samba do Avião), Triste, Wave, Zingaro".
Notation and tab....................................................................Price - $19.95
Click To Hear Audio Samples

Bill Piburn's arrangement of "Dream A Little Dream Of Me"

Bill Piburn - Groovy Guitar: Classic 60's Songs - Book and CD
Includes 15 classic songs arranged for solo guitar: "What A Day For a Daydream, Downtown, Happy Together, A Hard Days Night, I'll Never Fall In Love Again, The Last Train To Clarksville, Mellow Yellow, Scarborough Fair, Sittin' On The Dock Of The Bay, Spooky, Sunny, Up On The Roof, Walk On By, What Becomes Of The Broken Hearted, What The World Needs Now Is Love".
Notation and tab....................................................................Price - $19.95
Click To Hear Audio Samples

Bill Piburn's arrangement of "Downtown"

Bill Piburn - Fingerstyle Guitar Gig Book - Book
This collection of 146 fingerstyle arrangements for solo guitar covers a wide variety of styles including dozens of jazz and pop standards as well as blues and country songs, folk ballads, gospel and Christmas melodies, Celtic and patriotic tunes, children's songs, classical and wedding music. Songs include: "Abide with Me, Adelita, Ain't Misbehavin', Alice Blue Gown, All of Me, America the Beautiful, Auld Lang Syne, Aura Lee (Love Me Tender), Away in a Manger, Back Home Again in Indiana, Beautiful Dreamer, Beautiful Isle of Somewhere, Bill Bailey, Pachelbel's Canon, Corcovado, Dallas Rag, Danny Boy, Dixie, Don't Get Around Much Anymore, Elite Syncopations (Joplin), Greensleeves, Home on The Range, Honeysuckle Rose, I Can't Help It If I'm Still in Love with You, I'm in the Mood for Love, I've Got a Crush on You, In the Good Old Summertime, It Had to Be You, I Dream Of Jeanie, Just As I Am, Lagrima, Let Me Call You Sweetheart / A Bicycle Built for Two, Long Long Ago, Makin' Whoopee, My Blue Heaven, Oh You Beautiful Doll, On the Sunny Side of the Street, Round Midnight, Smile, Smoke Gets in Your Eyes, St. Louis Blues, Sweet Lorraine, Take Me Out to the Ballgame, The Days of Wine and Roses, The Girl from Ipanema, The Girl I Left Behind Me, Wayfaring Stranger, We Three Kings, When I Fall in Love, When Irish Eyes Are Smiling, Whispering, Wildwood Flower" and many others!
Notation and tab....................................................................Price - $39.95

Bill Piburn's Tribute To Lenny Breau

Guitarists who like Bill Piburn also like:
The Charlie Byrd Solo Guitar Collection

The Howard Heitmeyer Solo Guitar Collection

The Hank Mackie Solo Guitar Collection

Jazz Guitar Chords & Arpeggio Patterns - Stacy McKee - This unique book includes 300 jazz guitar chord formations and matching single note arpeggio patterns in a quick reference format that no one has ever done before! Cross indexing makes this manual extremely easy to use and regardless of what style of music you play, we know you will find this to be a valuable, "must have" addition to your library. Stacy McKee was the featured guitarist with "Les Brown and The Band Of Renown" and for a limited time only, we will include an exclusive copy of his book FREE with your first order!
==> Click here to see the Stacy McKee Chord Melody Solo Collection <==

Wikipedia article on guitar solos
Wikipedia article on fingerstyle guitar

Please get in touch with us personally if you have any questions.
U.S. residents call Toll-Free 1-800-913-9477
Outside the U.S. call 1-843-838-2657

You can easily place your order Toll Free by calling 1-800-913-9477 now!
OR click on this link to use our Secure Order Form All orders are backed by
our "exclusive" 30-Day No-Risk Guarantee! See Our Guarantee!

Chord Melody Productions PO Box 569 Beaufort, SC 29901


1-800-913-9477 -Toll Free 843-838-2657 - Phone 843-838-7381 - Fax chordmelod@aol.com

.............................................Home Page.......................................Secure Order Form.........................................